The Philippines confirmed on Thursday that Kuwait has issued arrest warrants against three Filipino diplomats, while four of the embassy's local hires remain in detention.
In a statement made available to Rappler, the Philippine Department of Foreign Affairs (DFA) said, "The Department served a diplomatic note to the Embassy of Kuwait conveying its strong surprise and great displeasure over the declaration of Ambassador Renato Pedro Villa as persona non grata; the continued detention of 4 Filipinos hired by the Philippine Embassy; and the issuance of arrest warrants against 3 diplomatic personnel."
This comes just one day after Kuwait said that two embassy staff who appeared in viral videos showing them "rescuing" Filipina domestic workers "were enticing female housemaids of the same nationality to escape from their employers' households," according to Kuwait's News Agency (KUNA).
Arrest warrants
Speaking to Al Arabiya, Kuwaiti lawyer Nawaf al-Fuzaia said that the actions of the Philippines embassy of kidnapping housemaids from Kuwaiti households were being viewed more or less as criminal acts on Kuwaiti territories.
"On a legal basis, there are videos of embassy personnel committing a crime and which were shared on social media. Kuwait had every right to ask for those who performed the criminal acts to be handed over to authorities but Filipino officials showed no intent in doing so," Fuzaia told Al Arabiya.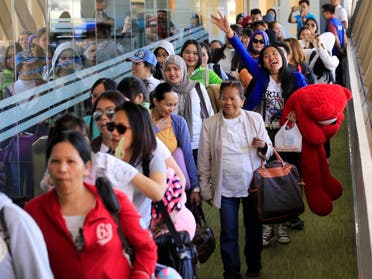 Kuwait formally asked the Philippine Ambassador Renato Villa to leave the country within a week after designating him persona non grata and has also recalled their own envoy from Manila on Wednesday.
A day earlier, the Philippines formally apologized to Kuwait for actions the latter viewed as violation of its sovereignty after the southeast Asian nation's embassy "rescued" several overseas workers from employers' homes.
Escalations between the two countries have thrown a scheduled visit on April 30 by President Rodrigo Duterte in doubt, especially after saying negotiations were making headway to resolve differences sparked by the murder of a Philippine maid, whose body was found stuffed in her employer's freezer in Kuwait earlier this year.
"We hope that this development will not lead to further worsening of bilateral ties between the two countries," Duterte's spokesman Harry Roque told reporters.
Escalation in crisis
But critics are saying that Duterte and his administration mishandled the situation and are expecting further fallout unless diplomatic steps are taken.
"The Duterte regime has all the diplomatic means at its disposal to carry out the important task of 'assistance to nationals'. Ambassador Villa may have been pressured by political leaders in Manila to undertake what the Kuwaiti government describes as illegal acts," Tonyo Cruz, a Filipino blogger and Manila Bulletin columnist, told Al Arabiya English.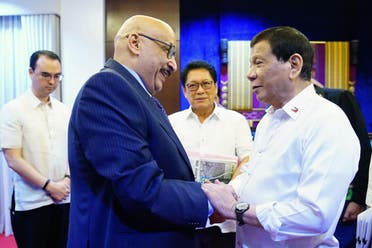 "Government actions and government-to-government relations cannot be done in the same way criminal syndicates operate. Sadly, the Duterte regime appeared to do it that way. It may have thought that they could get away with it," Cruz, whose father was an Overseas Filipino Worker (OFW) as a machine operator in Riyadh, told Al Arabiya English.
'Knock and request'
Rappler's Paterno Esmaquel II has extensively reported on issues of OFW cases in Kuwait and the Gulf concurred with Cruz saying that the way the Philippine embassy rescued abused workers from Kuwaiti households was reminiscent of how the Duterte administration undertakes its bloody anti-drug campaign.
"Except for the link to Extra Judicial Killings (EJKs), Tokhang – or to 'knock and request' – was how the Philippine embassy rescued abused overseas Filipino workers (OFWs) in Kuwait," Esmaquel wrote.
Recruitment and migration expert Emmanuel Geslani, who advised past Philippines governments on issues related to OFWs in the Middle East, confirmed to Al Arabiya English that embassy officials have been performing "rescue missions" of domestic workers across the region for several years now, albeit quietly.
"The rescue operations have been going on for several years now but it's been very quiet. The rescue can only be done in very severe cases of OFW asking for help. That's the only time the embassy would move to take housemaids away from their employers," Geslani told Al Arabiya English during a phone interview from Manila.
"There is a hotline for those who wish to be rescued but they were very few cases, probably two or three rescues in a week and not every day," he added.
Geslani has contended though that those numbers increased to nearly eight or nine per day and is partially after Filipina domestic workers took their cue from Duterte who vowed they could return home through embassy help, regardless of whether any abuse or maltreatment had taken place.
"While many agree they are not in favor of what is going on, many have to take the position of the government that they have to protect the worker first, especially those who are experiencing severe problems," Geslani said.
Observers of the crisis are noting that while the rescue missions have helped several of those domestic workers, it has actually endangered the lives of many in the long-run.
"Everyone has rights. Rights that we need to defend. Rights are more than a plot device for propaganda campaigns. It is unfortunate that 250,000 Filipinos in Kuwait, 65 percent of them vulnerable domestic workers, are going to be on the receiving end of this harsh lesson," Journalist Inday Espina Varona wrote in an op-ed for ABS-CBN News.
Thousands of miles east, Kuwaiti lawyer Nawaf al-Fuzaia agreed saying that Duterte's "witch-hunt" on Kuwait over the domestic workers' crisis was nothing more than a campaign ploy and urged his government to sit down with their Kuwaiti counterparts.
"The problem of domestic workers is an Arab one, not just Kuwaiti," he said.