The seven member nations of the Terrorist Financing and Targeting Center (TFTC) on Wednesday took significant actions to disrupt an Iranian-backed terrorist group by designating the senior leadership of Lebanese Hezbollah.

This was revealed in a statement on Wednesday by the US Treasury Department in Washington.

"The US Department of the Treasury's Office of Foreign Assets Control (OFAC) in partnership with the Kingdom of Saudi Arabia, the co-chair of the Terrorist Financing Targeting Center (TFTC), and the other TFTC member states – the Kingdom of Bahrain, the State of Kuwait, the Sultanate of Oman, the State of Qatar, and the United Arab Emirates (UAE) – designated members of Hezbollah's Shura Council, the primary decision-making body of Hezballah," the press release said.

The Shura Council is Hizbollah's supreme decision-making body responsible for religious, military, and strategic matters and asserts control over administrative, planning, and policy-making authorities.

Specifically, OFAC, together with Gulf partners, designated Hasan Nasrallah, the Secretary General of Hezbollah.

OFAC and the TFTC nations further designated Naim Qasim, Muhammad Yazbak, Husayn Al- Khalil, and Ibrahim al-Amin al-Sayyid pursuant to Executive Order 13224, which targets terrorists and those providing support to terrorists or acts of terrorism.

In addition, TFTC Member States also designated the following key Hezbollah-affiliated individuals and entities: Talal Hamiyah, Ali Youssef Charara, Spectrum Group, Hasan Ebrahimi, Maher Trading, Hashem Safieddine, Adham Tabaja, Al-Inmaa Group, and Al-Inmaa Engineering and Contracting, all of whom were previously designated by the US.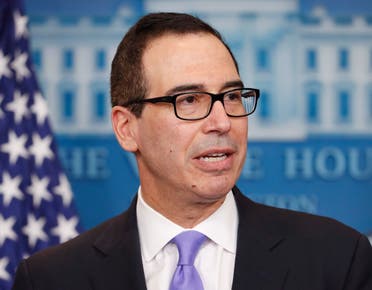 "The TFTC again demonstrated its great value to international security by disrupting Iran and Hezbollah's destabilizing influence in the region. By targeting Hezbollah's Shura Council, our nations collectively rejected the false distinction between a so-called 'Political Wing' and Heizballah's global terrorist plotting," said Secretary of the Treasury Steven T. Mnuchin.
Prolonging human suffering
"Under the dictates of the Iranian Revolutionary Guard Corps-Qods Force (IRGC-QF), Secretary General and head of the Shura Council Hasan Nasrallah is prolonging the human suffering in Syria, fueling the violence in Iraq and Yemen, putting the Lebanese state and the Lebanese people at risk, and destabilizing the entire region."

This is the second TFTC designation action since the center was announced on May 21, 2017.

The TFTC is a bold and historic effort to expand and strengthen the seven member states' cooperation to counter the financing of terrorism.

The TFTC facilitates coordinated disruptive actions, sharing of financial intelligence information, and member state capacity-building to target terrorist financing networks and related activities that pose national security threats to TFTC members.

"These designations follow President Trump's decision last week to cease US participation in the Joint Comprehensive Plan of Action, and to begin reimposing US nuclear-related sanctions on the Iranian regime. They are in furtherance of the goal of addressing the totality of Iran's malign activities and regionally destabilizing behavior, including that of Hezballah," the press release said.