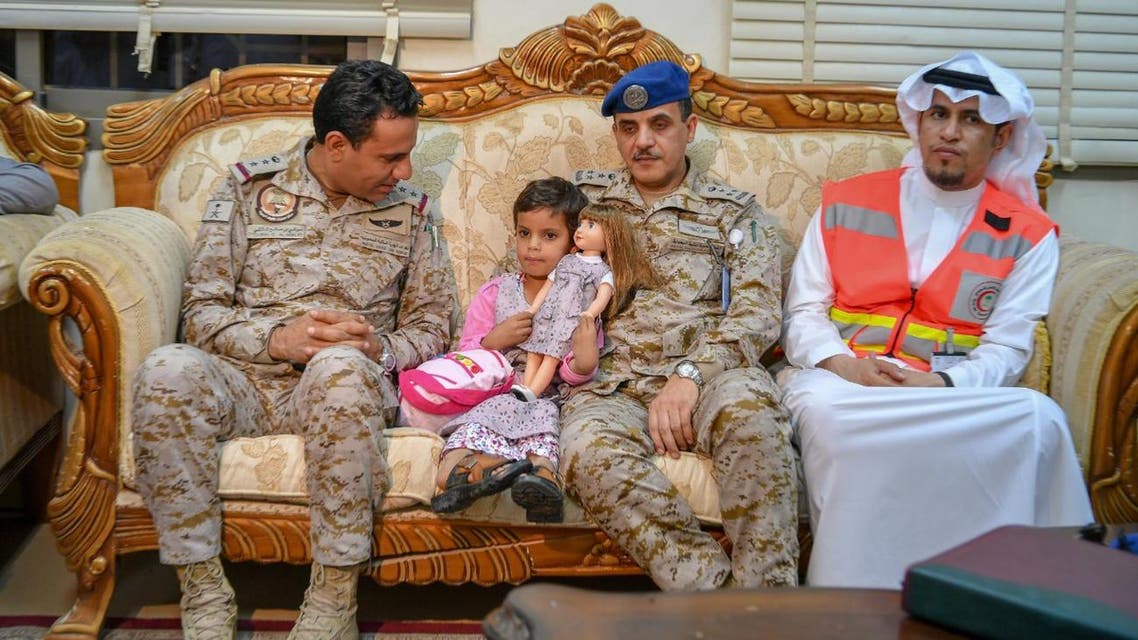 Coalition hands Yemeni government infant girl used as human shield by Houthis
The spokesperson of the coalition supporting legitimacy in Yemen has said that forces handed over a 4-year-old infant girl over to a representative of the Yemeni government after rescuing her from Houthi militants.
Col. Turki al-Malki said on Saturday that the girl, identified as Jamila, was handed over to the Yemeni government in the presence of representatives from the ICRC, the Saudi Red Crescent the Human Rights Commission and the Head of the Child Protection Unit in Armed Conflict led by the Joint Forces of the Alliance.
Malki said that the Yemeni National Army forces captured the father of the child during the liberation operations of Saada.
He pointed out that during the Yemeni National Army forces advance in the area, an armed vehicle attacked them led by a Houthi fighter.
During the monitoring process, a child was identified with the commander of the vehicle and the Yemeni armed forces took precautionary measures to prevent the vehicle from being targeted for the safety of the child.
During the arrest of the driver of the armed vehicle carrying a number of weapons, a four-year-old girl was found dressed in boys clothing.
The commander of the vehicle was identified as her father, who used her presence on the battlefield as a human shield. Using children and minors as shields go against the rules of engagement, especially with regard to child protection applied by the coalition forces.
The leadership of the coalition's joint forces represented by the Unit for the Protection of Children in Armed Conflict provide the necessary medical and full care of the infant child. She was then delivered on Saturday to the legitimate government in the presence of her relatives and financial assistance was provided to both the girl and her family.
Malki stressed that the actions of the Houthi armed militias was a clear and explicit violation of international humanitarian law by recruiting and enlisting children in the battlefield as well as using them as human shields to ensure their movement and not being targeted because they represent legitimate military objectives.