VIDEO: Yemen Special Forces obtain camera showing Houthi footage of defeats
Footage from a Houthi photographer's camera documented the break in ranks among the militias due to the successive losses in battle and ground near the border regions with Saudi Arabia and inside the Yemeni heartland.
Videos and images from the camera were obtained by a brigade of the Yemeni Special Forces in the frontlines of Haradh during its successful gain in control of a Houthi site. It showed elements of the militias, most of them young, being recruited by the Houthis and dragged on the battlefield.
In the video, a Houthi militia's comment can be heard in the background acknowledging the control of Saudi forces on the positions previously held by the Houthis off the Saudi-Yemeni border before being spotted by a sniper.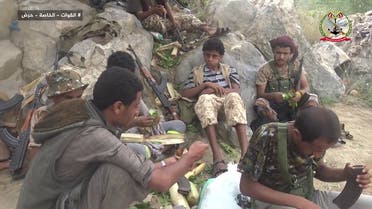 The border front of Haradh, specifically the city of Hajja, is witnessing progress and advancements made by the Yemeni National Army in the range of Abu Nar and Abu Harab Mountains and other areas overlooking the road between the city of Hajjah and Saada, strongholds of the Houthis.
Yemeni Special Forces continue to advance in the Harad Mountains and are able to cut off the main supply road with Saada.