Heading a high-profile delegation, the Saudi ambassador to Yemen Mohamed al-Jaber arrived in the governorate of Marib east of the country.
The Saudi ambassador announced the start of a reconstruction and development program to strengthen the infrastructure of Marib.
Upon arrival and meeting with local officials in Marib, which was attended by Yemen's public works minister Moeen Abdoualmalak and governor Sultan al-Arada , al-Jaber announced "the start of the reconstruction and development program in the governorate upon the directions of Saudi King Salman bin Abdul Aziz."
Al Jaber added that he " will open an office for the reconstruction in the governorate during the visit and this office will start executing a wide range of infrastructure projects."
The office, as the Saudi ambassador explained, will "construct a regional airport in Marib in addition to road, electricity and sewage projects, as these will facilitate better services for the citizens as well as provide jobs."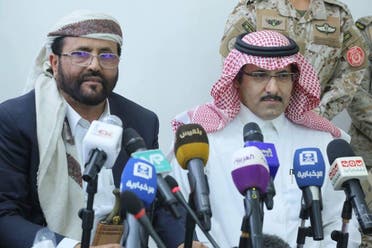 The ambassador called on the Yemenis in the governorate which is under the control of the Houthi militias to protect their children and prevent them from joining forces with the militia, adding that "Yemen's future will be bright for the coming generation."
HE Ambassador Mohammed Al Jabir Supervisor of the Saudi Reconstruction Program in Yemen, Executive Director of @YCHOperations visits Ma'rib hospital authority and Saba University, and announces infrastructure and basic services projects in the Governorate.

— Yemen Humanitarian Operations (@YCHOperations) May 31, 2018
The Saudi delegation also heard from officials in Marib the development plans and projects in the city, with both sides agreeing on the necessity of supporting Sabaa University, and the General Hospital, and the electricity and water department.