Saudi Arabia's Ambassdor to the United States, Prince Khalid bin Salman, has said that while Riyadh has a vision for itself set to be achieved by the year 2030, Iran is focused on its "Vision 1979".
The ambassador was speaking during Mitt Romney's annual political retreat, the E2 Summit, at the Stein Eriksen Lodge in Park City of Utah and was joined during his panel by US Speaker of the House Paul Ryan.
"This clash of visions is the problem with Iran. We have Vision 2030. They have Vision 1979. We want to move the region forward. They want to move the region backward," Prince Khalid said.
To be able to achieve Vision 2030 goals, the ambassador said that the region needed stability. "In Saudi Arabia our foreign policy serves our domestic politics, which is Vision 2030," he told the audience.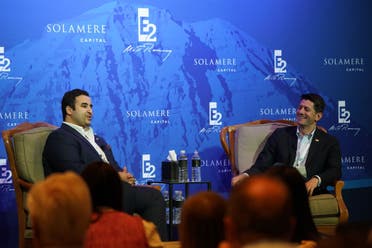 In doing so, the ambassador said a majority of Saudi students abroad would come back to their kingdom to contribute to the growing workforce and economy. "Almost 99% of graduated Saudi students who studied abroad go back to Saudi Arabia: Saudi people do not love their country because it's modernized. But, they modernize their country because they love it," he said.
The Saudi diplomat also spoke on several other topics, includes strides made by Saudi women on the economic scale.
"The head of our stock exchange is a woman, she was appointed last year. I'm glad to hear the New York Stock Exchange just appointed a woman for the first time last month which took 226 years. It took us 34 years, and we are only 86 year old," he said.
The ambassador also spoke on the historic United States-Saudi allied relationship by saying that he was "proud to have trained and fought alongside Americans and now he's proud to represent the Kingdom of Saudi Arabia to the United States in support of our strong relationship".
Prince Khaled bin Salman was named as Saudi Arabia's ambassador to the US in 2017. A former F-15 pilot who graduated from Columbus Air Force Base in Mississippi, he had participated in the international coalition to combat ISIS as an air force pilot in 2014.