With the launch of a large-scale ground operation to liberate Yemen's Hodeidah city and its main port west of the country, Yemen legitimate forces supported by the Arab coalition arrived at the outskirts of the city airport, according to Al Arabiya correspondent.
Earlier on Wednesday the Yemeni army forces have seized control over al-Nakhila suburb south of Hodeidah, shortly after the battle began.
A large-scale ground operation
A military source said a large-scale ground operation supported by the Arab coalition's aerial and naval cover began to march towards Hodeidah in more than one axis.

Local sources said violent explosions were heard in the city's suburbs. Later in the morning, the army announced it had gained control of the suburb of Nekhailah in southern Hodeidah.
"Yemeni resistance forces have increased their readiness for combat in preparation for the battle to liberate Hodeida from the grip of the Huthi militias," Emirati state news agency WAM said.
It quoted a Yemeni military source saying that "large contingents" from the Giants Brigades, National Resistance and Tihama Resistance had reached the outskirts of Hodeida city, backed by sophisticated weapons systems.
"They continue to deploy along the front lines in anticipation of the start of the battle," the source said.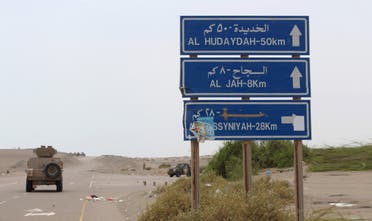 Yemen's government declared Tuesday night that negotiations had failed to force the rebels from Hodeida, and that a grace period for UN-led peace efforts was over.
"All peaceful and political means of removing the Huthi militia from Hodeida port have been exhausted," the government said in a statement carried by Yemen's state news agency Saba.

"Liberating the port represents the beginning of the Houthis' collapse. It will secure navigation in Bab-el-Mandeb Strait and it will cut off Iran's hands that have drowned Yemen with weapons that are used to shed the Yemenis' blood," it added.

READ ALSO: Saudi ambassador to US: Yemen's Houthis have attacked Saudi, UAE and US ships
READ ALSO: Saudi envoy: Hodeidah's liberation will replenish major lifeline for Yemenis
The government reiterated that it will carry out its national duty towards the people of Hodeidah, with the coalition's support, after the port is completely liberated and will work to mitigate their suffering and restore life to normal in all districts in the governorate after it's purged from the Houthis.

It also promised the Yemeni people that it will carry the good news "of liberating Hodeidah soon."

The Yemeni army had in the past few hours pushed its military reinforcements to Hodeidah's outskirts and deployed on the confrontation fronts to launch its decisive battle to liberate the city.

Military sources said the military tactic to liberate the city took into account shielding civilians and infrastructure during the battles.
Hodeidah, Yemen's biggest Red Sea port and the only one under Houthi control, serves as the lifeline for the majority of Yemen's population.
(With AFP and Reuters)