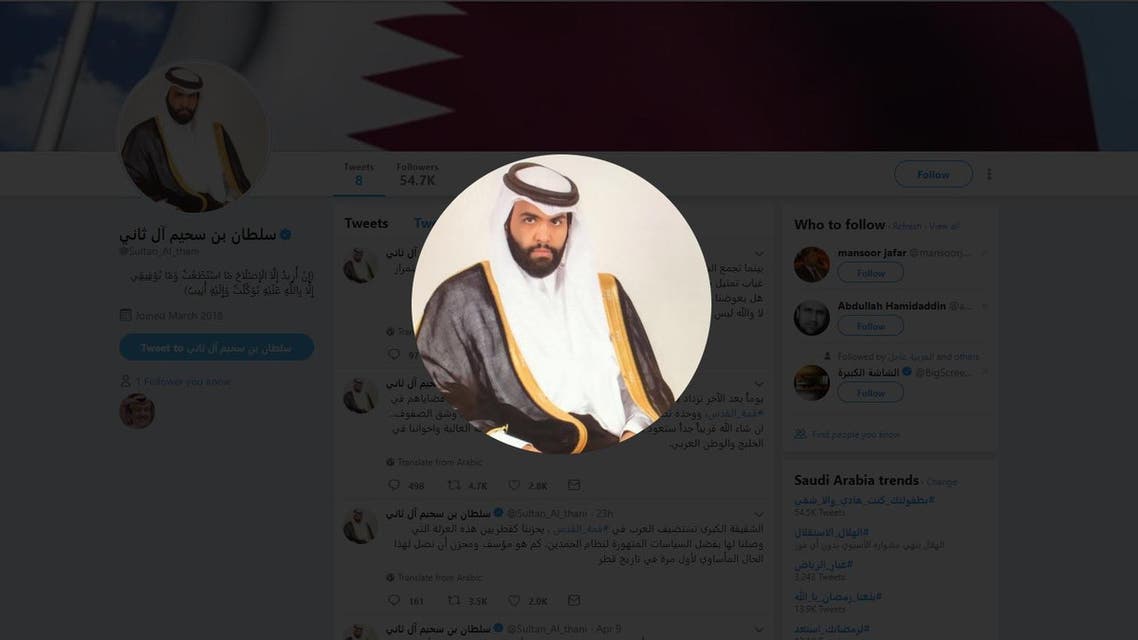 Qatar's Sheikh Sultan bin Suhaim: 'Two Hamad regime' leading country to chaos
Sheikh Sultan bin Suhaim, a member of the Qatari royal family, said on Saturday that Qatar's rulers are "leading the country to chaos."
Sheikh Sultan bin Suhaim is the son of Sheikh Suhaim bin Hamad bin Abdullah al-Thani.
"The 'two-Hamad regime' is leading the people of Qatar to chaos," Sheikh Sultan said, referring to both former Qatar Emir Hamad bin Khalifa and Hamad bin Jassim bin Jaber, Qatar's former foreign and prime minister.
"The third Eid has passed while my country is still isolated by the boycott. May God grant the people of Qatar patience against the regime and its crimes."
This week marks Eid al-Fitr, the Muslim holiday that marks the end of the fasting month of Ramadan. Qatar has been boycotted by Saudi Arabia, the UAE, Bahrain and Egypt since June 2017.
Sheikh Sultan added: "Our country is on the edge of the abyss, while the isolated regime relies on mercenaries that search for their own interests and gains in disregard of the imminent danger that our people are experiencing. The mercenaries will betray them one day, when the boat sinks."
Earlier this week, Sheikh Sultan slammed Qatar in a series of tweets for siding with the Iranian regime against Doha's relations with Saudi Arabia, United Arab Emirates, Bahrain and Kuwait.