Women across Saudi Arabia today woke up to a new country, one in which they could drive freely after the lifting of a decades-old ban on women driving.

Saudi women were officially able to drive at the stroke of midnight on June 24 as a royal decree granting them the right to drivers' licenses came into effect.
Al Arabiya English has followed Saudi women on their first journeys behind the wheel.
Maha Al-Ghanim, a make-up artist, said Saudi society had long awaited the lifting of the ban and said her first journey was to her workplace.


Al-Ghanim told Al Arabiya English said that being able to depend on herself is "liberating."
Meanwhile, dermatologist Dr. Rasha Bilal said that she regularly drove outside the kingdom in countries like Bahrain, the UAE and Syria, but she is especially happy to be driving in Saudi Arabia as that was her place of residence and work.


Manal Zabalawi, one of the first Saudi women to publicly learn how to drive a few years ago, said: "We are ready to sit behind the wheel. I congratulate Saudi women and Saudi society on this huge," she said, with her daughter Farah by her side.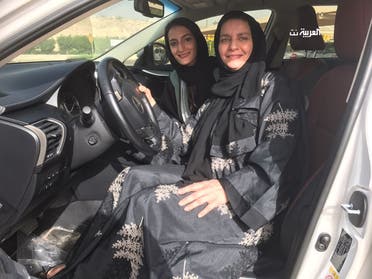 "We need a car to do our daily activities," said Fatima Al Katheer, a Saudi bank employee.
"We are working women and we have a lot of social activities, and we need to go out, so we need a means of transport," she told Al Arabiya English.