More than 120,000 women have applied for licenses and the demand is very high, Ministry of Interior spokesman Maj. Gen. Mansour Al-Turki said in Riyadh on Sunday at a joint press conference with Director General of the Traffic Department Maj. Gen. Muhammad Al-Bassami.
A total of 40 female road inspectors will commence their duties in the coming weeks, he said at the press conference following the implementation of women driving.
Turki said six driving schools in five cities have been set up to train women. However, nine regions have no driving schools yet.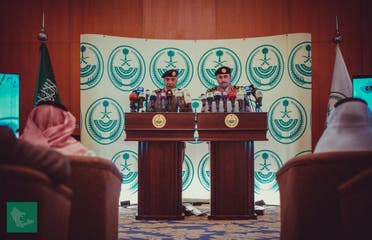 The high standards being applied to women's driving schools will be the benchmark for all schools, including those for men, he added.
Answering a question, Bassami said that housemaids can also drive but the problem is in the type of visa.
He said no traffic violation cases have been registered till now since women were allowed to drive.
Bassami said there are no provisions in traffic regulations for special parking spaces for women. Special parking areas can be assigned only for people with special needs.
FULL COVERAGE: SAUDI WOMEN DRIVING
He said a female driver's identity can be checked through finger prints through hand held devices.
Turki warned that anyone who violates others' rights will face legal proceedings.
"We urge everyone against violating traffic regulations and others' rights," he said.
Women across Saudi Arabia today woke up to a new country, one in which they could drive freely after the lifting of a decades-old ban on women driving.
Saudi women were officially able to drive at the stroke of midnight on June 24 as a royal decree granting them the right to drivers' licenses came into effect.
Al Arabiya English followed several Saudi women on their first journeys behind the wheel. Watch their first drives here.
Pictures circulating on social media showed Saudi traffic police handing out roses to female drivers as they sat behind the wheel for the first time in the early hours of Sunday.
Traffic departments have begun implementing carefully planned procedures in preparation for the influx of cars expected to be on the roads.
(With Saudi Gazette)