Three relief planes, headed by the King Salman Relief and Humanitarian Center (KSRelief), carrying humanitarian and food items arrived in Yemen's Aden in preparation for their transfer to Hodeidah, the first of the Saudi plans to airlift relief for the people of the province.
Dr. Abdullah Al-Rabeeah, adviser at the Royal Court and supervisor general of KSRelief, said that the relief bridge, which was launched following the directions of Saudi King Salman and Crown Prince Mohammed bin Salman, inspected the conditions of all Yemenis, especially those in the most affected areas including Hodeidah.
In addition, the aircraft carried 70 tons of shelter and food items targeting the most affected families in the province, accompanied by a specialized team from the center to monitor and supervise the distribution.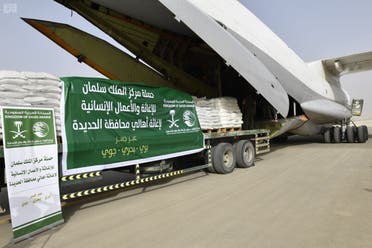 Another field medical team of the Arab Coalition Forces has provided therapeutic services for the families and children of the liberated and remote areas along the western coast of Yemen, according to the Saudi Press Agency (SPA).
The medical team explained that field tours aim at providing medical and therapeutic services for women, children and the elderly who suffer from various chronic diseases in all remote areas in the western coast of Yemen as well as free medical care for them in their homes.