Saudi Arabia's Ministry of Justice represented by the Department of Lawyers, reported an astonishing 240% increase in the number of licenses granted to women lawyers in the past three years.

According to Saudi Press Agency, the number of women lawyers saw a sharp rise since the Ministry of Justice began offering licenses in 1434H.

In the past three years alone, the ministry issued 77.5% of the total number of licenses.

In the first year since the ministry began granting licenses to women, only 10 licenses were approved. However, this year saw 95 licenses granted to women so far.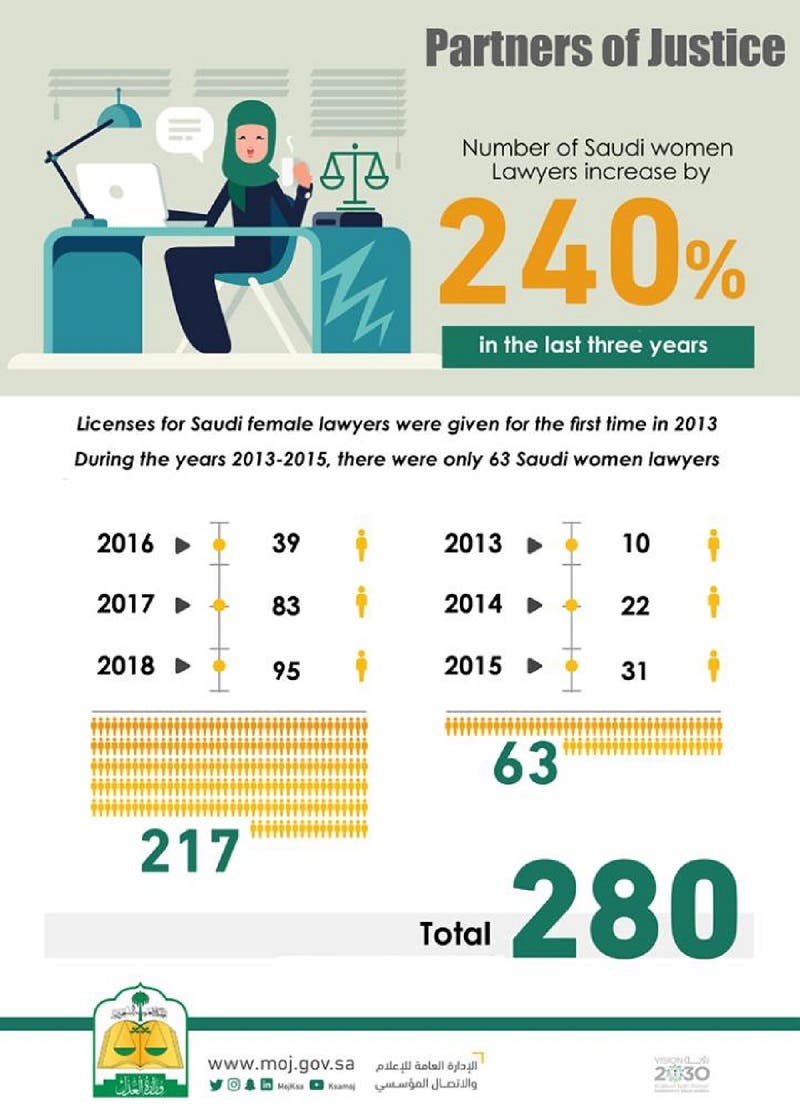 Randa Hissain Arif, a licensed Saudi lawyer who trained recent graduates in a law office in Jeddah, said over the years she noticed an improvement in the level of professionalism of the trainees.

Saudi women "continuously prove their strength" in numerous fields and have an "ability to accomplish extraordinary goals," she said.

According to Arif, there has also been a noticeable difference in the professional presence of women in the courts and law offices.

Arif, who regularly submits legal articles to a local newspaper, told Al Arabiya that a large number of Saudi women lawyers publish articles and books on law.

She added that Saudi women "are half of the society and undoubtedly play a major role" in prospering the country.
Empowering women to join the workforce
Women's increasing role in judicial affairs comes with the Minister of Justice and the President of the Supreme Judicial Council of Saudi Arabia Waleed Bin Mohammed al-Samaani's attempt to empower Saudi women.

Al-Samaani was instructed to provide more opportunities for women to obtain an authenticated license so that they could practice law.

As part of the government's Vision 2030 goal to raise women's participation in the workforce, new job opportunities have become increasingly available to women.

The ban on women drivers, which was officially lifted on June 24, is also expected to increase the influx of women joining the workforce. An estimated 3 million women are expected to be driving in Saudi Arabia by 2020, according to research by audit firm PwC.