First flight from Indonesia as part of Makkah Road initiative arrives in Madinah
Making its debut, a pilgrim-carrier flight coming from Indonesia as part of Makkah Road initiative arrived in Al-Madinah Al-Munawarah after having completed the passengers checking-in at their departure post abroad.
As many as eleven governmental bodies have accomplished a concerted effort to finalize the entry process of pilgrims before arriving to their final destination, an initiative coming as part of the efforts of the Saudi government, led by the Custodian of the Two Holy Mosques King Salman bin Abdulaziz Al Saud, aiming to provide unprecedented entry services to pilgrims through expediting the check-in procedure and shorted their stay at Saudi airports on their arrival as per the Kingdom's vision 2030.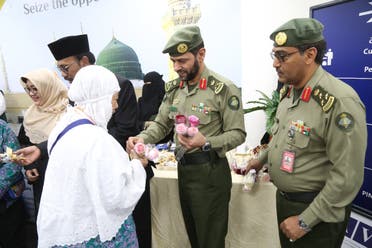 A special terminal was allotted for the arrivals, with buses awaiting to take pilgrims directly to their temporary stay camps.
To this effect, Indonesian Ambassador to Saudi Arabia Agos Abe Jibreel praised the move which, he said, is part of the giant services the Kingdom has provided since long for pilgrims to make their once-tough-trek a pleasant journey, citing that presenting roses, flowers and sweets to his country mate pilgrims at Prince Mohammed bin Abdulaziz International airport cannot be forgotten.