Saudi Arabia's General Presidency for the Affairs of the Grand Mosque and the Prophet's Mosque reveals that the 'Kiswa' is now ready to be placed on the Kabaa. The embroidered black and gold cloth is due to cover the holy site on morning of the day of Arafah (predicted on the 20th of August).
Ahmad bin Mohammed Al-Mansouri, the director-general of the King Abdul Aziz Complex for the Kaaba, said that the general presidency has been following the plan for this year's 2018 Hajj season and carried out the usual routine of changing the Kaaba's 'Kiswa'.
He added that a team of specialists and technicians worked with caution to assure the cleanliness and safety of the 'Kiswa'.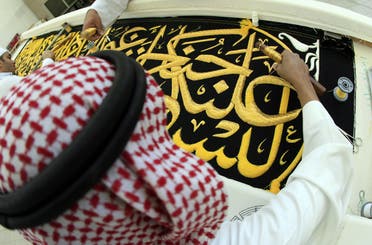 The 'Kiswa' is woven from pure silk, and embellished by gold-plated thread illustrating verses from the Quran. It is classified as a work of Islamic art produced by top-skilled craftsmen.
The covering of the Kaaba signifies of the start of the Hajj season.

With SPA