A state of frustration is currently permeating Turkish society due to the "silence of Qatar" regarding the crisis that hit Turkey's economy as a result of US sanctions against Ankara, Turkish daily newspaper Takvim reported.
In a report published on Tuesday, the newspaper said that instead of supporting Ankara, Qatar has chosen to remain silent about what is happening in Turkey, although the latter was quick to support the Doha during the Arab Quartet's boycott.
The newspaper recalled what it described as "the great Turkish support" offered by Ankara to Doha at various levels following the boycott, which was carried out by Saudi Arabia, the UAE, Bahrain and Egypt who believe that Qatar is "supporting terrorism and interfering in the affairs of other countries and fostering relations with Iran."
The newspaper stated that Turkey has sent dozens of cargo flights to Qatar and has stood side by side with Doha during the boycott.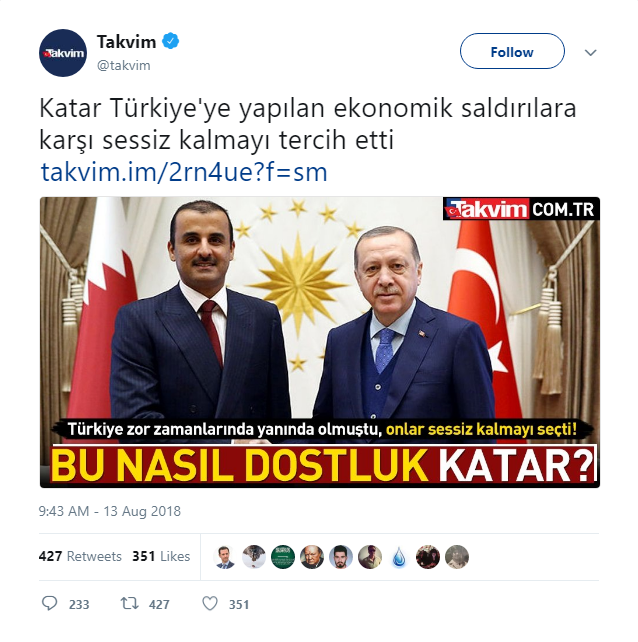 "Nevertheless, it must be acknowledged that the government of Qatar is currently overlooking the situation in Turkey and did not provide the necessary political and humanitarian support… is this how a friendship should be?" the newspaper's report said.
Later on Tuesday, the newspaper deleted the article and proceeded to delete the tweet promoting it (seen above).
Turkish President Recep Tayyip Erdoğan made a phone call to the emir of Qatar, Sheikh Tamim bin Hamad al-Thani, a day after the British Financial Times reported that Erdogan would turn to Qatar in his latest feud with US President Donald Trump.
According to the Anatolia news agency, official sources at the Turkish Presidency reported that: "The two leaders maintained their countries' determination to strengthen bilateral relations in all fields and agreed to keep close contact between them."
The Turkish lira has lost about 40 percent of its value since the beginning of the year, after US President Donald Trump doubled, on Friday, customs duties on imports of aluminum and Turkish steel, days after Washington imposed further sanctions against the Turkish Ministers of Justice and Interior, under the pretext of not releasing American Pastor Andrew Branson, who is detained by Turkey on terrorism-related charges.
In response to the move, the Turkish president called on citizens to support the lira and boycott US electronic products, describing the sanctions as an economic war, and threatening to give up using the US dollar in trade with other countries.
Against the backdrop of these developments, British Financial Times reported that it is likely that Erdogan would turn to Qatar and request financial assistance from Doha to save the Turkish lira, nevertheless the newspaper reported that the Turkish president would eventually give in to the pressure exerted by Trump and release the priest who has been held under false pretenses.
The Takvim article has since been removed from the news outlet's website, however it is still mentioned on their official Twitter account.