Saudi Foreign Minister Adel al-Jubeir said on Friday that the sovereignty of Saudi Arabia is a "red line," adding that the kingdom does not and will not accept foreign interference in its internal affairs.
In his speech to the United Nations in New York, Jubeir said that Qatar's activities had made the Arab boycott against it an unavoidable choice.
"The Qatar boycott is part of the efforts made by Saudi Arabia and its allies to combat terrorism," Jubeir said.
He also affirmed Saudi support for the US strategy in confronting Iran, noting that Tehran's terrorist activities continue to destabilize the region.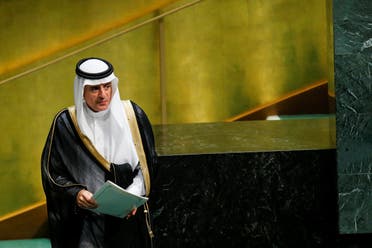 He added: "We renew our call to intensify international cooperation to combat terrorism … Saudi Arabia believes that achieving peace in the Middle East requires the deterrence of Iran.
"Iran's aggressive behavior in the region is a flagrant violation of all international conventions," he said.
$13 billion for Yemen
"Saudi Arabia is renewing its commitment to the political solution in Yemen," Jubeir said, adding that Saudi Arabia's financial support for Yemen in the past four years has reached $13 billion.
He said "the Houthi terrorist organization of Iran continues to fire rockets at Saudi Arabia," referring to the launch of 199 ballistic missiles towards the kingdom in recent months.
He also stressed that peaceful solutions to disputes are among the constants of Saudi foreign policy.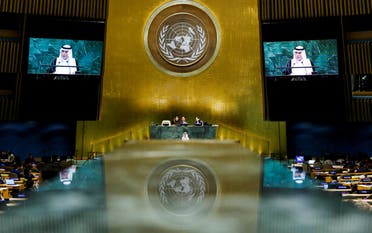 Palestine, Syria and Libya
Jubeir said "the Palestinian issue remains the pivotal cause for Saudi Arabia and the Islamic world."
"The establishment of an independent state based on the 1967 borders with East Jerusalem as its capital is a Palestinian right," he added.
The Saudi minister also stressed the kingdom's stand on the side of legitimacy in Libya, stressing its support for the Skhirat agreement.
"Saudi Arabia supports the efforts of UN envoy Ghassan Salama and calls for maintaining Libya's unity," he said.
Jubeir also focused on the need to reach a political solution to end the Syrian crisis.
Speaking on domestic progress, Jubeir said that the Saudi government has made humans the center of development and opened the doors of the future for its citizens through its Vision 2030 program.
He stressed that empowering women to have fulfilling opportunities was the goal of the Saudi government, adding that the kingdom's message os based on the hope for future generations to live in peace.