Since the start of Jamal Khashoggi's disappearance case, the Qatari media published dozens of false news and uncorroborated information accusing Saudi Arabia of killing a Saudi citizen inside the Saudi Consulate in Istanbul.
Dozens of serious charges were also leveled against Saudi Arabia without relying on official sources whether with confirmation or denial.
Despite the fact that the Turkish authorities did not issue any official statement condemning Saudi Arabia, as well as the denial by the Saudi interior minister, who confirmed that the frenzied media coverage surrounding the case is false and without basis, the Qatari media still insists on publishing lies about the disappearance of Saudi citizen and journalist Jamal Khashoggi.
Turkey: Saudi-Turkish team to investigate Khashoggi case. Full story
International Laws
According to the international laws, publishing such false news might lead to legal prosecution of Qatar by the Saudi authorities.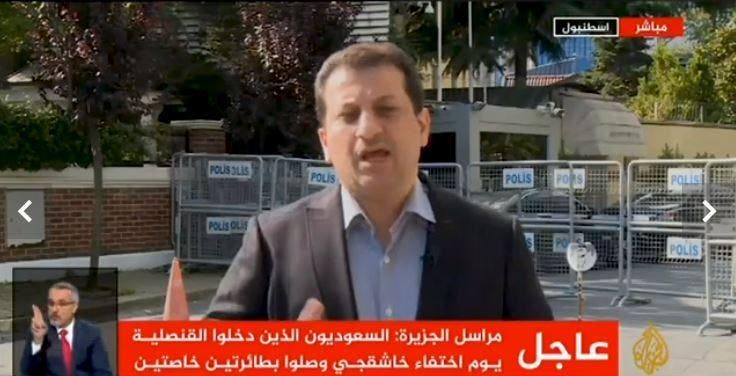 International law expert, Professor Mohammed AttaAllah, said that Qatar and its media outlets, might face prosecution by the Saudi authorities, because of its interference in Jamal Khashoggi's case and for falsifying the facts surrounding his disappearance.
Accuracy and corroborating sources
In an interview with Al Arabiya English, the Law Professor said: "The media allows freedom, but under conditions that these information which are published from a State against another, whether through its channels or any other media channels. These should be corroborated and accurate, because if these information were wrong, it would lead to other problems. Thus the international law which legalized the media freedom, did not just leave it without boundaries, but rather it restricted it with the necessity of committing to all international norms that ensure accuracy and corroboration of information."
Also read: NYT admits to not corroborating details in article on Khashoggi
"Any country that publish fake news about another State, then the latter has the right to resort to international organizations and file a complaint before the United Nations or any other international body. What Qatar is doing against Saudi Arabia is harming Qatar itself more than any other country. The world now is open and very aware about the information accuracy. Qatar is about to lose its credibility in its media information," Professor AttaAllah pointed out.
He also explained that the international community still, through the UN, did not pass a resolution sanctioning the spreading of lies, asserting that: "There is an international agreement signed by a few countries, including Egypt and France, which is the international right to rectification agreement. This agreement guarantees that if a country faced publishing a false news by another country; thus the harmed state should file a complaint against the country that published the false news, and amend the news and give it the same importance and space in which the false news was published in."
AttaAllah hoped that all States would realize the importance of this agreement and to hasten to join it, saying: "The social media companies also should stand against the false media, as this harms its reputation. These companies should review and verify the accuracy of information published on their sites that affect countries, and the goal of defaming these countries."