The Saudi Military Industries Company (SAMI) and the Spanish company Navantia for Marine Industries announced the launch of their joint venture under the name SAMI Navantia Naval Industries, following the agreement signed last April by the two parties to design and build five reinforced Avanti 2200 during the recent visit by Saudi Arabia's Crown Prince Mohammed bin Salman to the Spanish capital.
The signing ceremony was held in the Saudi capital Riyadh on Tuesday, in the presence of Ahmed al-Khatib, Chairman of Saudi Military Industries Company and the Chief Operating Officer of Navantia Gonzalo Mateo-Guerrero Alcázar, along with officials from both parties.
The joint venture will mainly centralize the manufacturing of all aspects of marine combat systems in the kingdom, from project management, installation and linkage of combat systems, system engineering and design, hardware and software development and testing, development of simulation systems, installation and integration of combat systems provided in the recent Spanish military ship as well as logistical support and training programs.
The Saudi-Spanish joint venture aims to achieve 50 percent of Saudization in the military industries by 2030. According to Saudi news agency SPA, the new project is expected to support Saudi Military Industries' efforts to keep 50 percent of military spending within the Kingdom as per Vision 2030 by Saudization of all marine military work.
The joint venture will also contribute significantly to enhancing the readiness of the armed forces in Saudi Arabia, as well as creating job opportunities and training for the Saudi youth, thus increasing the contribution of Saudi citizens to the industry.
The revenues of this military joint venture for marine military industries might reach $ 8 billion by 2030.
"We are very proud of His Royal Highness Prince Mohammed bin Salman's confidence in Navantia and we are committed to partnering with Saudi Military Industries and Saudi Arabia to support their national security and technical development needs," said Chief Operating Officer of Navantia, Gonzalo Mateo-Guerrero Alcázar.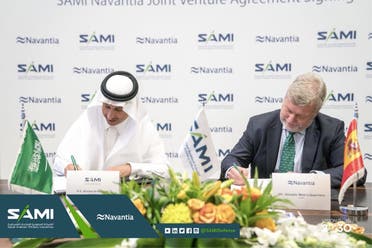 The fourth and fifth vessels will be launched in Saudi Arabia according to the joint venture approved by Saudi Military Industries and Navantia.
With regard to the design of the five Avanti 2200 vessels, it is being developed to suit the requirements of the Royal Saudi Navy, to deliver high quality performance including excellent sailing power, longer shelf life and high working capacity at high temperatures in the region, all within the cost limit Optimize the life cycle of ships.
Navantia is a Spanish state-owned shipbuilding company, which offers its services to both military and civil sector. It is the fifth-largest shipbuilder in Europe, and the ninth-largest in the world with shipyards all over Spain.