The governor of Saudi Arabia's Asir region is set to patronize a plan on Sunday to complete the pending and upcoming infrastructure and service projects.
According to reports, details of the plan will be made public during an event hosted by Prince Turki bin Talal bin Abdulaziz, the Governor of Asir region.
"Under the guidance of His Royal Highness Prince Mohammed bin Salman bin Abdulaziz, Crown Prince and Deputy Prime Minister and Minister of Defense, His Royal Highness Prince Turki bin Talal bin Abdulaziz, Governor of Asir Region, will patronize the plan to complete the basic projects in Asir region. He will be joined by Saudi Health Minister Dr. Tawfiq Al-Rabiah, Acting Minister of Municipal and Rural Affairs Dr. Majid bin Abdullah al-Qasabi and Minister of Transport Dr. Nabil bin Mohammed al-Amoudi," according to a statement released.
"These projects represent an important step forward for the region's sons and daughters who have long been looking forward to it. The diversity of the projects represent the health, transportation and municipalities sectors within a large system of projects, not only in the region but at a Kingdom-wide level," the statement added.
The projects will expand the infrastructure and services needed by the Asir region, as well as others that are pending or have already been implemented.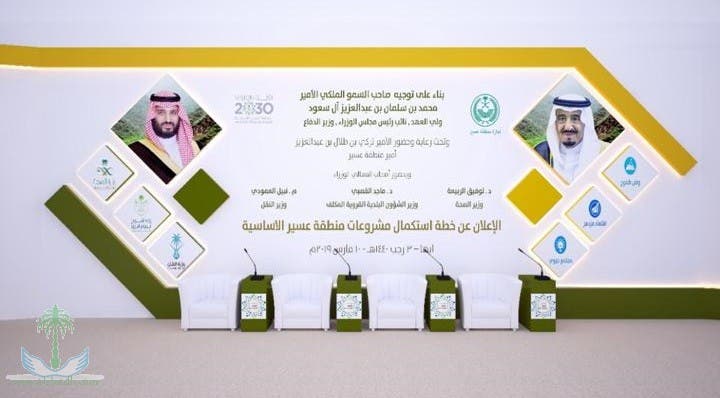 Last November, Saudi King Salman toured the kingdom with Crown Prince Mohammed bin Salman and launched billions of dollars' worth of development projects across several cities. These include the King Salman Energy Park project (SPARK) located between Dammam and al-Ahsa in the Eastern Province, with investment in investment in the first phase of the project expected to reach around $1.6 billion.
Saudi Arabia's Crown Prince also launched last month mega tourism projects in the ancient desert city of al-Ula. The projects are set to bring in a $32 billion increase in GDP, over two million visitors, and 38,000 jobs by 2035.
The projects are part of Saudi Arabia's Vision 2030 and efforts to build an economy away from oil-dependence while expanding on tourism and untapped resources in the Kingdom's many regions.