Saudi Deputy Defense Minister Prince Khalid bin Salman bin Abdulaziz held a meeting on Thursday with US Defense Secretary Mark Esper at the Pentagon.

They reviewed bilateral relations, enhanced strategic cooperation between the two countries, and opportunities to develop them, enhancing defense capabilities and deepening bilateral partnership, according to the Saudi Press Agency (SPA).
In their opening comments, Esper and Prince Khalid said they intended to work toward strengthening the bilateral relationship between the two countries.

The meeting dealt with regional and international developments, including combating terrorism, countering Iran's destabilizing hostile practices in the region, the joint effort within the framework of the initiative to protect international navigation, the continued efforts of the coalition forces in supporting the legitimacy of the Republic of Yemen, and a number of issues of mutual interest.
The meeting was attended by Princess Rima bint Bandar bin Sultan bin Abdulaziz, Saudi Ambassador to the United States, and the official delegation accompanying the Deputy Defense Minister.

The meeting comes just after Prince Khalid bin Salman met with US Secretary of State Mike Pompeo, during which the two discussed the situation in Yemen, which remains tense.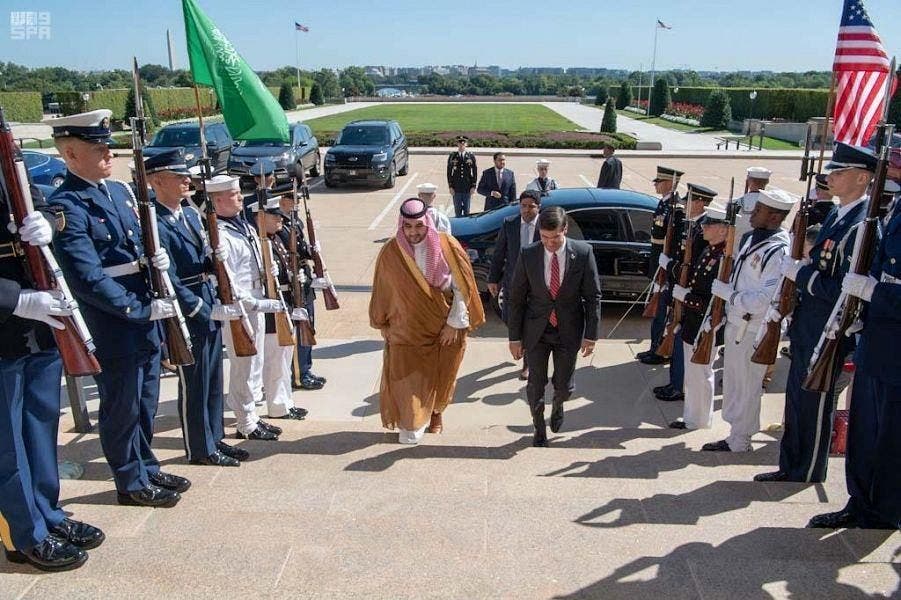 They also reviewed bilateral cooperation in various fields, and discussed developments and events in the region.

The importance of protecting freedom of navigation in international waters and the role of the Coalition in supporting legitimacy in Yemen to restore security and stability was also discussed.