Bahrain suspended all private and public schools, universities, and nurseries across the kingdom for two weeks from Tuesday amid concerns regarding the coronavirus outbreak.
Bahrain has identified six more new cases of coronavirus all coming from Iran, bringing the total number in the Arabian Gulf kingdom to 23, the state news agency BNA reported on Tuesday, citing the health ministry.
On Monday, the country announced a travel ban on Iran, according to a statement from the official Bahrain News Agency (BNA).
The Bahrain Tourism and Exhibitions Authority (BTEA) issued a statement enacting the temporary ban and warning that anyone who broke the law would face tough penalties.
"The measure is in implementation of the Government's decision to continuously step up efforts aimed protecting citizens and residents' health and safety", said BTEA Chief Executive Officer Nader Khalil Almoayyed.
Manama has also suspended flights to airports including Dubai and Sharjah in the UAE, which was the first country in the Arabian Gulf to declare cases of coronavirus. None of the cases in the UAE have been fatal, and two have recovered.
Check out Al Arabiya English's dedicated coronavirus page here for the latest updates on the global virus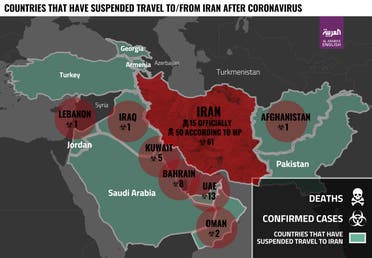 Read more:

Bahrain confirms 9 further coronavirus cases, including 4 Saudi Arabian women
Bahrain announces travel ban on Iran amid coronavirus outbreak
Bahrain temporarily suspends Dubai, Sharjah flights over coronavirus
27 travelers from Iran test positive for coronavirus in 6 Arab countries
Concerns over spread from Iran
Iran, a close neighbor of Bahrain across the Arabian Gulf, witnessed an explosion of cases over the last week.
The Iranian government has officialy recorded 95 cases, with 15 deaths, but an Iranian MP alleged that there had been 50 deaths in the city of Qom alone, prompting US Secretary of State Mike Pompeo to voice concern that Iran is suppressing the details of the outbreak.
The number of people infected with coronavirus in Iran could be as high as 1,500, experts told Al Arabiya English on Tuesday.
"If we assume that the rate of death per case is in the same range in Iran that it is elsewhere, then that implies that there are between 750 to 1,500 symptomatic cases in Iran. But that would be making the assumption that the Iranian severity is similar to the severity elsewhere," said Dr. Marc Lipsitch, a professor of epidemiology at Harvard University.
Those infected include Iran's Deputy Minister for Health Iraj Harirchi, according to a tweet posted by an adviser to the health minister and reports from the semi-official news agency ILNA on Tuesday.