Bahrain's ministry of health confirmed on Thursday, seven new cases of the coronavirus, increasing the total number of infected individuals to 33, according to the state news agency (BNA).

"Infected individuals were immediately transferred to Ebrahim Khalil Kanoo Community Medical Center for isolation and treatment following tests that confirmed they were carrying COVID-19, upon arrival at Bahrain International Airport via indirect flights from Iran," BNA reported.
Bahrain had previously reported 26 cases on Wednesday after three more cases came from Iran.
Check the dedicated coronavirus section here.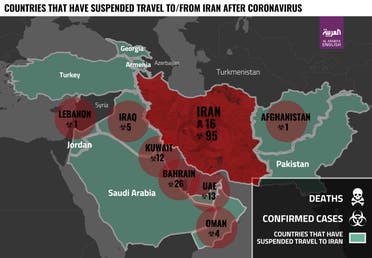 "All individuals in contact with the infected patients have also been quarantined as per preventive efforts."
The ministry said that one of the newly confirmed cases is a Bahraini citizen who had returned from Iran before the country started confirming cases of coronavirus. The citizen, having presented COVID-19 symptoms, called the designated hotline and was quickly transferred to isolation for treatment.
Bahrain taking precautionary measures
Bahrain has announced several precautionray mesaures to combat the spread of coronavirus, including closing schools, a travel ban from Iran.
Bahrain suspended all private and public schools, universities, and nurseries across the kingdom for two weeks from Tuesday.
Bahrain will test all citizens and residents who traveled to Iran in February in an effort to control the spread of coronavirus, announced the Health Ministry on Wednesday, according to Bahrain News Agency.
The ministry provided a hotline for those who have been to Iran this month to schedule test appointments, noting that all citizens and residents must comply with the implementation of all instructions and preventative measures issued by the ministry to ensure the safety of everyone, Bahrain News Agency reported.
Concerns over spread from Iran
Iran, a close neighbor of Bahrain across the Arabian Gulf, witnessed an explosion of cases over the last week.
The Iranian government has officialy recorded 95 cases, with 15 deaths, but an Iranian MP alleged that there had been 50 deaths in the city of Qom alone, prompting US Secretary of State Mike Pompeo to voice concern that Iran is suppressing the details of the outbreak.
The number of people infected with coronavirus in Iran could be as high as 1,500, experts told Al Arabiya English on Tuesday.
"If we assume that the rate of death per case is in the same range in Iran that it is elsewhere, then that implies that there are between 750 to 1,500 symptomatic cases in Iran. But that would be making the assumption that the Iranian severity is similar to the severity elsewhere," said Dr. Marc Lipsitch, a professor of epidemiology at Harvard University.
Those infected include Iran's Deputy Minister for Health Iraj Harirchi, according to a tweet posted by an adviser to the health minister and reports from the semi-official news agency ILNA on Tuesday.
- With wires
Read more:
Kuwaiti passengers arriving from Iran moved into quarantine in hotels
How deadly is the coronavirus and is there a cure: 10 questions answered
Opinion: Something is rotten in the Islamic Republic: Iran's sinister coronavirus cover-up