Video: Kuwaitis in quarantine due to coronavirus outbreak celebrate National Day
Kuwaiti passengers who arrived on flights from Iran and are currently in quarantine were shown celebrating their country's National Day inside the al-Kout hotel in Mangaf, a video being shared online by local media showed.
The passengers who arrived earlier this week from Iran were asked to stay in the hotel for two weeks as a precautionary measure until health officials determined whether they were infected with the virus.
Kuwait's health ministry said on Twitter that the number of people diagnosed with coronavirus in the country had risen to 25 after 13 more cases were confirmed on Wednesday.
Kuwait marks its National Day and Liberation Day each year on February 25 and 26.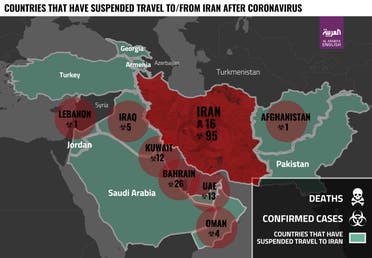 Read more:
Iran cleric urges people to visit Qom religious site despite coronavirus fears
Opinion: Something is rotten in the Islamic Republic: Iran's sinister coronavirus cover-up
About 50 dead from coronavirus in Qom, Health Minister to blame: Iran MP on ILNA
Bahrain suspends all private, public schools amid coronavirus outbreak
Oman to transfer stranded travelers from Iran to Muscat amid coronavirus outbreak