Prominent Houthi leader Mohammed al-Hamran killed near Marib battle in Yemen
The Iranian-backed Houthi militia confirmed the killing of prominent Houthi leader Mohammad al-Hamran on Thursday amid fierce clashes near Marib, as battles with government forces intensified along the frontlines in central provinces.
Al-Hamran is said to be a commander of the militia group's special forces unit and to have maintained close ties to Houthi leader Abd al-Malik al-Houthi.
The killed militant leader is so far the highest-ranking commander to have been killed in battle this year.
According to reports, al-Hamran led an elite brigade of Houthi fighters which received training from the Lebanese Hezbollah militant group.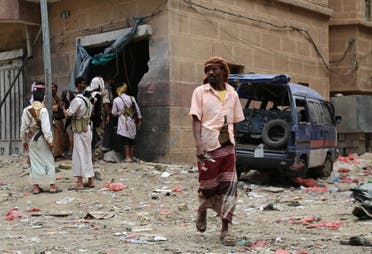 Read more:
Houthis force African migrants to cross into Saudi Arabia amid coronavirus pandemic
Watch: Houthis say they will shoot and kill people with COVID-19 coronavirus
Opinion: The Houthis cover up for Iran. Here is why.
Yemeni security officials, who spoke on condition of anonymity, said that al-Hamran was killed in clashes between the Marib and al-Bayda central provinces, which were the focus of fighting on the ground in recent weeks.
Yemen on Wednesday reported the first three cases of the novel coronavirus in the southern province of Lahaj, one of whom has died, and another infection in the southern port of Aden.