UAE approves National Policy on Vaccinations amid coronavirus pandemic
The United Arab Emirates cabinet approved a National Policy on Vaccinations to combat infectious diseases, like the novel coronavirus, and reduce their risks to individuals and society the official WAM news agency reported on Monday.
The new policy aims to make vaccines widely available and ensure they are sustainable and of good quality. Other objectives will be to raise awareness of the importance of vaccines, to support innovation and research, and to develop policies to safeguard public health during emergencies and disease outbreaks.
For all the latest headlines, follow our Google News channel online or via the app.
"It also aims to bring together the non-governmental sector and community members to support the UAE's fight against communicable diseases by promoting a healthy lifestyle; as well as ensure the delivery of the best quality of vaccination services and preventive care nationwide," WAM reported.
With the coronavirus pandemic ongoing, countries, including the UAE, are working to develop a vaccine and treatment for COVID-19 as well as ensure healthcare infrastructure is equipped to handle the current and future disease outbreaks.
Abu Dhabi-based G42 Healthcare has conducted the world's first Phase III clinical trial for a potential COVID-19 vaccine, in partnership with a Chinese pharmaceutical group. Phase III trials expand research previously conducted on a new medicine and give the drug to a larger group of people than earlier clinical phases with the aim of testing for safety.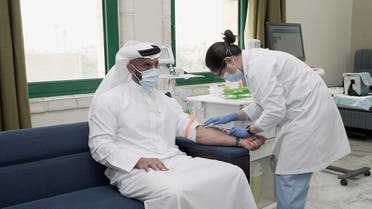 The World Health Organization recommends that countries have vaccination policies.
"Countries need to have strong mechanisms that enable informed decision-making about immunization priorities and the introduction of new programme strategies, vaccines and technologies," a statement on the organization's website said.
The new UAE vaccine policy will boost the country's position as a regional and international healthcare system and ensure that immunization services provided are in line with international standards.
Read more:
Coronavirus: UAE-based G42 extends COVID-19 vaccine trials to Bahrain
World's first Phase III COVID-19 vaccine trials in UAE reaches 31,000 volunteers
Coronavirus: Saudi Arabia renews expired residency visas of expats stuck abroad