The agreement between the UAE and Israel will include a reference to the two-state solution, UAE Minister of State for Foreign Affairs Dr. Anwar Gargash said in an interview with Israeli media ahead of the signing ceremony.
The two-state solution is a proposal to end the Israeli-Palestinian conflict, granting both parties independent statehood.
Israel halted its plans to annex Israeli settlements in Palestinian territory in August, in exchange for the normalization of diplomatic ties with the UAE.
Gargash said in an interview with Reuters on Tuesday that the suspension of annexation would stop the two-state solution from being undermined.
The agreement between the two countries is set to be signed Tuesday at the White House.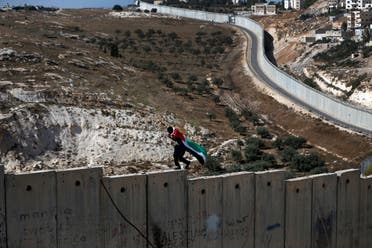 Former US envoy to the Middle East Ambassador Dennis Ross told Al Arabiya English the UAE's decision to normalize relations with Israel in return for an annexation freeze is a "huge step" and will preserve the hope for the possibility of a two-state solution.
"It prevents Israeli annexation, which preserves the possibility of two states and the hope for peace between Israelis and Palestinians," said Ross, who played a leading role in shaping US involvement in the Middle East peace process for over twelve years, in an interview with Al Arabiya English.
Read more: After Israel deal, Bahrain's Jews seek to revive community with new rabbi, synagogue
Ross said that while Palestinians may criticize the agreement, "the reality is annexation has been prevented and that serves Palestinian interests."
Palestinian lawmaker Bernard Sabella expressed skepticism, telling Al Arabiya English after the announcement that he wasn't sure that the development "would really change things on the ground with respect to settlements and annexation."
Read more:
Bahrain, Israel normalize ties: Seven events that led to the deal
Israel agreement 'not a political treaty, it's a treaty of coexistence': UAE official
Direct flights from UAE to Israel possible by end of 2020: Israeli spokesperson