Israel relations
Bahrain, Israel sign 7 MoUs in various fields including trade and security
Bahrain and Israel formally recognized its peace deal normalizing ties between each other during a signing ceremony in Manama on Sunday that included seven Memorandums of Understandings (MoUs) in various fields including those in trade and security.
A visit by a high-level delegation of officials from Israel and the US to Bahrain and the signing of Memoranda of Understanding (MoU) contributes to the foundations of peace in the region, according to Bahrain's Foreign Minister.
"Foreign Minister Dr. Abdullatif bin Rashid Al Zayani said that the declaration to support peace with Israel and the signing of memoranda of understanding today establish a fruitful cooperation between Bahrain and Israel that contributes to consolidating the foundations of peace in the region in accordance with the visions of His Majesty King Hamad bin Isa Al Khalifa," read a statement on the Bahrain News Agency.
For all the latest headlines follow our Google News channel online or via the app.
"These visions aim to promote the peace process towards more positive prospects, starting with preserving the legitimate rights of the brotherly Palestinian people in accordance with the legal international resolutions," the foreign minister added.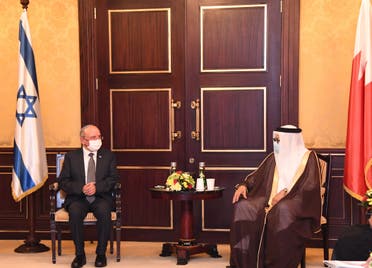 Al-Zayani on Tuesday received Israeli National Security Advisor Meir Ben-Shabbat on a visit with a delegation to the Kingdom.
BNA quoted Ben-Shabbat in its report as saying that the "success of the visit would be positively reflected in the future of the relations between Bahrain and Israel in terms of continuing coordination between them and contributing to strengthening the peace process in the region in a way that serves the aspirations of its states and peoples for progress and prosperity."
Bahrain, along with the UAE, officially normalized relations with Israel at a signing ceremony at the White House last month, as part of the Abraham Accords agreement.
Read more:
Israel-Bahrain peace: Official delegation lands in Manama for formal ceremony
Israel, UAE to sign agreement for 28 flights per week, ministry says
Official UAE delegation trip to Israel set for October 20: Source