Man arrested in Saudi Arabia's Jeddah after stabbing guard at French consulate: SPA
A Saudi man has been arrested in the Saudi Arabian city of Jeddah after stabbing a guard at the French consulate, reported the official Saudi Press Agency on Thursday.
The man reportedly used a "sharp tool" to stab the guard.
The guard has been taken to hospital for treatment, said SPA, citing police spokesman Maj. Mohammed al-Ghamdi.
For all the latest headlines follow our Google News channel online or via the app.
The French Embassy also acknowledged the attack.
"The French Consulate General in Jeddah this morning was subjected to a knife stabbing incident targeting a security guard, an employee of a private security company, and immediately, the Saudi security forces arrested the perpetrator. The security guard was taken to a hospital, and his health condition remains stable," the French Embassy in Riyadh, Saudi Arabia, said in a press release posted on Twitter.
"The Embassy of France strongly condemns this vicious attack against a diplomatic facility," the press release read, adding that the embassy "affirms its full support for the victim and expresses its confidence in the Saudi authorities to uncover the circumstances of the accident and ensure the security of French facilities and the French community in the Kingdom of Saudi Arabia."
Attacks in France
The reported stabbing came just after an attacked beheaded a woman and killed two others in the French city of Nice.
Another attacker was shot by French police after threatening to stab people in the French city of Avignon.
It was not clear whether the attacks were linked.
Read more: France knife attack: Woman beheaded in Nice church, two others dead, several injured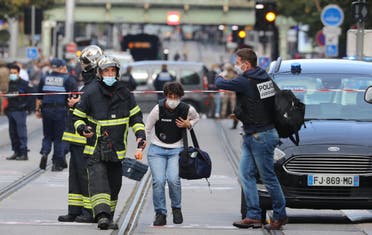 The attacks on Thursday came two weeks after the French teacher Samuel Paty was beheaded by an 18-year-old Russian man after he showed cartoons ina class on free speech.
French President Emmanuel Macron labelled the killing as "an Islamist terrorist attack" and tweeted in Arabic earlier this week that France would "not give in" and would "not accept hate speech and defend reasonable debate."
Some Muslim leaders have called for a boycott of French products after French President Emmanuel Macron insisted that the right to freedom of expression included being able to draw cartoons of the Prophet Mohammed, which is forbidden in Islam.
Several Arab countries, including Kuwait and Jordan, urged their citizens to boycott French products over the use of Prophet Mohammed in French cartoons, with retail co-ops in Kuwait pulling French products from their shelves.
Read more:
Beheading in Nice church the latest in France's recent history of attacks
Facing Muslim anger, France warns citizens abroad to take caution, avoid gatherings
Pakistan PM accuses Macron of attacking Islam by 'encouraging' blasphemous cartoons
Saudi Arabia's response to France controversy
A Saudi Arabia foreign ministry source condemned terrorist attacks and all actions that incite hatred and violence, according to a statement carried by SPA.
The source added that it also condemned any cartoons offending the Prophet Mohammed and rejected any attempts to link Islam with terrorism.
"The Kingdom of Saudi Arabia rejects any attempts to link Islam with terrorism and condemns the offensive cartoons of the Prophet of Guidance and the Messenger of Peace Mohammed bin Abdullah, may God bless him and grant him peace, or any of the messengers, peace be upon them," SPA quoted the source as saying.
Saudi Arabia's highest religious body, the Council of Senior Scholars, previously said that insulting prophets only serves extremists who wish to spread hatred among societies.
"The duty of wise people all around the world… is to condemn such insults which have nothing to do with freedom of thought and expression and are nothing more than pure prejudice and a free service for extremists," the council said in a statement reported by the Kingdom's official Saudi Press Agency on Sunday.
Opinion: Samuel Paty's murder shows need for free speech, combating radicalization in mosques
Developing.