Israel relations
UAE-Israel relations: Dubai's Fresh Market opens first-ever Israeli produce display
The Fresh Market in Dubai's Ras al-Khor opened on Saturday its first ever Israeli produce display as part of the two countries' efforts to establish diplomatic and business links, the Emirates News Agency (WAM) reported.
The Fresh Market, an UAE-based grocery chain, plays a key role in positioning Dubai as a regional hub for trading and the sale of local and imported produce, according to WAM.
For all the latest headlines follow our Google News channel online or via the app.
"Together with our colleagues in Dubai, we are beginning to see the 'fruits of peace' today. The export of fresh agricultural products from Israel to the UAE market has a significant advantage because of the geographical closeness and the speed with which the products can be transported directly to markets in the UAE and beyond," Shlomi Fogel, Chairman of Carmel Agrexco, told WAM.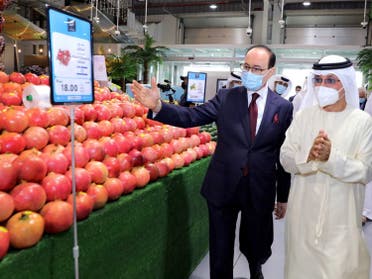 The United Arab Emirates and Israel in September signed a historic bilateral agreement, called the Abrahams Accord, at the White House in Washington.
Along with establishing diplomatic relations, the UAE and Israel agreed to promote investment and tourism, as well as launch direct flights connecting the two countries.
Direct flights between the UAE and Israel are set to start on November 26 through Dubai-based airline Flydubai.
Read more:
UAE-Israel ministers team up to establish anti-crime programs, safety services
UAE-Israel direct flights to start November 26