Kuwait Emir appoints new government: Al-Fares oil minister, Hamade gets finance
Kuwait's Emir Sheikh Nawaf al-Ahmad al-Jaber al-Sabah appointed a new government on Monday, following elections in the country this month.
Sheikh Hamad Jaber Al-Ali al-Sabah will serve as deputy prime minister and minister of defense.
The decree appointed Mohammad Abdulatif al-Fares as the new oil, electricity and water minister, according to the government communications office on Twitter. Al-Fares replaces the outgoing outgoing Khaled al-Fadhel.
Sheikh Ahmed Nasser al-Sabah has been reappointed as foreign minister, added the office.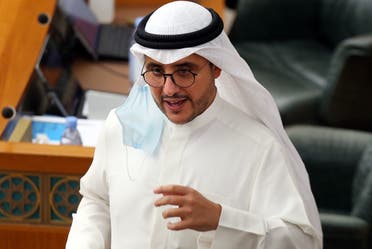 Khalifa Hamade was named as finance minister, replacing Barak al-Shitan.
Sheikh Thamer Ali Sabah Al-Salem al-Sabah has been appointed as the minister of interior and Nawaf Al-Yaseen is the minister of justice.
The cabinet includes one woman, Dr. Rana Abdulla Abdulrahman al-Fares, reappointed as minister of public works and minister of state for housing affairs.
Kuwait's only female MP Safa al-Hashem lost her seat in the recent parliamentary elections.
The results saw opposition candidates make gains in the parliamentary vote for the 50-member chamber, in which two-thirds of incumbent MPs lost their seats.
With Reuters.
Read more:
Emir of Kuwait accepts post-election government resignation
Coronavirus: Kuwait authorizes emergency use of Pfizer-BioNTech COVID-19 vaccine
Safa al-Hashem, Kuwait's controversial and only female MP, loses seat