New era for Saudi Arabia, Greek relations with closer cultural partnership
A new cultural partnership is underway between Saudi Arabia and Greece following a meeting between the culture ministers, Prince Badr bin Farhan and Lina Mendoni, Saudi's Ministry of Culture announced on Thursday.
The discussion concluded with an agreement to sign a Memorandum of Cooperation in Riyadh in 2021, which will uplift the existing trade relationship - of nearly $1 billion - to include the exchange of cultural goods, services and skills.
For all the latest headlines follow our Google News channel online or via the app.
As the world looks to recover from the COVID-19 pandemic, there was joint recognition to support hard hit sectors across the cultural ecosystem to ensure a return to growth for the US$2.25 trillion global creative industry.
Cooperation will establish 'Cultural Weeks' in both countries, which could bring about co-organized events such as heritage and art exhibitions and festivals. Joint archaeological projects were also discussed as a key area of collaboration, and it was noted that a historical relationship has existed between the countries for over 2,000 years.
The agreement will see the two countries join forces to address issues of global concern, such as the protection of tangible and intangible heritage, countering illicit trafficking of cultural property and the impact of climate change.
The pair also underlined their respect and commitment for the work of UNESCO. This comes as the International Union for Conservation of Nature (ICUN) reports that one third of natural world heritage sites to be under threat.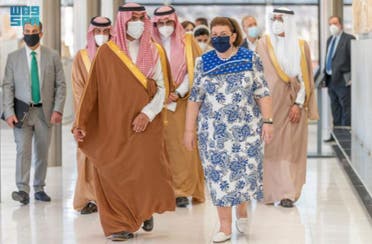 "As Saudi Arabia's cultural transformation continues at pace, we welcome closer relations with our Greek friends," said Prince Badr after the meeting. "Both our countries have a deep and rich heritage, stretching back millennia, and a shared outlook on the positive power of cultural exchange and the need for its protection and preservation."
"As the Kingdom looks to share its culture with the world, Greece's insight and experience has much to offer us."
Mendoni thanked Prince Badr for the discussions and spoke of a new chapter in relations between Saudi Arabia and Greece.
"We had an excellent discussion with H.H. Prince Badr bin Abdullah bin Mohammed bin Farhan Al Saud on the establishment of permanent and close cultural relations and exchanges between our two Countries," said Lina Mendoni. "We agreed to have Culture Weeks in the two countries and, within these weeks, to see the possibility of co-organizing exhibitions, either of archaeological or contemporary artistic creation."
"It was an extremely constructive cooperation which will be sealed and confirmed by a Memorandum of Cooperation, which will be signed in Riyadh in 2021."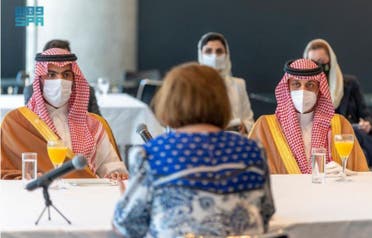 The two nations, both rich in historical and archeological significance, already have important ties through trade. As part of Vision 2030, Saudi Arabia is diversifing its economy away from oil and expanding its cultural offer, from heritage to tourism to cuisine – areas where Greece already excels. This provides fertile ground for greater exchange.
The meeting is part of a two-day visit Prince Badr is undertaking to Athens.
On Wednesday, he met with Greece's President Katerina Sakellaropoulou at the presidential palace in Athens, according to the Saudi Press Agency (SPA) reported.
The minister is also expected to hold talks with other Greek officials to look into cultural cooperation between the Kingdom and Greece, as well as visit cultural and heritage monuments such as the Acropolis Museum and the National Gallery.
During the meeting with Sakellaropoulou, Prince Badr said that the Ministry of Culture is keen to cooperate with its Greek counterpart and work on a strengthening cultural ties, SPA reported.
The minister also stressed the importance of building cultural cooperation between Saudi Arabia and Greece at a strategic level, adding that the cooperation will contribute to the development of the cultural sector and would help support practitioners and intellectuals in both countries.
The meeting was attended by Saad bin Abdulrahman Al-Ammar, the Saudi ambassador to Greece, and General Supervisor of Cultural Affairs and International Relations Rakan al-Touq.
Prince Bandr also conveyed greetings of King Salman and Crown Prince Mohammed bin Salman to Sakellaropoulou and highlighted the historical ties between the two countries that date back to 1926.
Read more:
Saudi Arabia's Ministry of Culture achieves workplace gender balance
Greece signs deal to provide Saudi Arabia with Patriot air defense system: Greek FM
Saudi Arabia chooses lavender as color for ceremonial carpets, symbolizing identity