'Dangerously narrow' window for green recovery: Prince Charles at Saudi forum
UK's Prince Charles, in recorded remarks addressing the Saudi Green Initiative Forum in Riyadh on Saturday, highlighted the "dangerously narrow" window for green recovery while praising the Kingdom's commitment to climate action.
Prince Charles said the Saudi Green Initiative and a wider Middle East Green Initiative, which Riyadh will host on Monday, would help accelerate the great progress already made.
For the latest headlines, follow our Google News channel online or via the app.
Citing experts, he said the UN Climate Change Conference COP26 due to start at the end of October in Glasgow must have nationally determined contributions (NDCs) with "clear baselines" and net zero emission targets.
Attended by global leaders from all spheres of society, the Saudi Green Initiative (SGI) Forum rallies the climate action ecosystem to achieve ambitious national targets and spark innovative solutions to help tackle climate change.
The Forum unveils SGI's roadmap for delivery and spotlight the Kingdom's green efforts. Saudi Arabia had earlier on Saturday announced its target to reach zero-net emissions by 2060.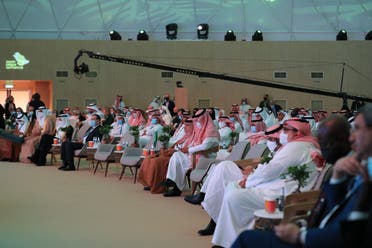 "At last, and after far too long, climate change and biodiversity loss are clear global challenges of paramount importance to the world," Prince Charles said.

"At the same time, the ongoing pandemic has highlighted that human health, planetary health and economic health are fundamentally interconnected.

"We now have a dangerously narrow window of opportunity in which to accelerate a green recovery while laying the foundations for a sustainable future.

"In the Middle East the current climate is around 1 to 1.5 degrees centigrade warmer than pre-industrial times and there is a high risk of further warming in the future, particularly at the hottest time of year.

"These higher temperatures are likely to have, or are already having a profound impact on the people and the ecology of the region," Prince Charles said.

He said there is also a risk the increasing temperatures will drive the need for greater supplies of water and energy.

"But, there is hope, and we already seeing real progress – something the Saudi Green initiative and Middle East Green Initiative aim to accelerate."
Huge potential for renewable energy
"As I've been trying to stress for many years, the region has huge potential for renewable energy including solar power, wind, green hydrogen and carbon capture," Prince Charles said.

He said these industries "can drive economic growth and increase green job opportunities."

He pointed out that the Kingdom's global leadership in energy transition is critically important. "I can only say that it is enormously encouraging to see the commitment to diversifying its energy mix, recognizing the cascading economic and social environment benefits that renewable energy provides.

"Practical projects on the ground help bring to life the transformative potential of the green economy," he said. "Bearing in mind that the region is estimated to lose $13 billion to dust storms every year, there is no doubt that the regional initiative to plant billions of trees would have a truly transformative effect for the benefit of generations to come."
With Reuters
Read more:

Saudi Arabia targets net zero emissions by 2060: Crown Prince
UN praises Saudi's 'bold' climate action plans after emissions pledge