Saudi Arabia's King Salman, Crown Prince Mohammed bin Salman meet US President Biden
US President Joe Biden said on Friday that he discussed Saudi Arabia's defensive needs during his meetings with King Salman and Crown Prince Mohammed bin Salman in Jeddah.

Biden, who arrived in the Kingdom earlier in the evening, met with King Salman at Al Salam Royal Palace in Jeddah before the Crown Prince headed a meeting with the US president and officials from both countries.

Speaking to reporters following his meetings, Biden said he had good discussions on ensuring global energy security and adequate oil supplies during his meetings with King Salman and the Crown Prince.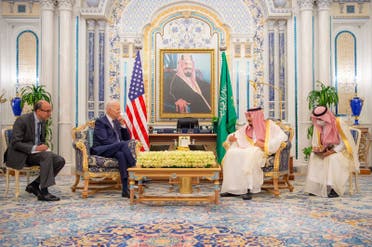 "I expect further steps from Saudi Arabia on global oil supply in the coming weeks following a discussion with the Kingdom's leaders," Biden said.

For all the latest headlines follow our Google News channel online or via the app.

He also said that the US and Saudi leaders have finalized an agreement to connect Iraq's electric grid to the Gulf Cooperation Council's grids through Kuwait and Saudi Arabia.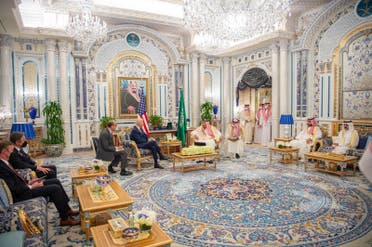 During the discussions which tackled Yemen, Biden said he agreed with the Kingdom to work to deepen and extend the ceasefire which has been in effect since April.

Biden also announced that he concluded a deal under which international peacekeepers, including US troops, will leave the strategic Tiran Island that lies between Saudi Arabia and Egypt.

Peacekeepers have been stationed in the island as part of accords reached in 1978 and which led to a peace deal between Israel and Egypt.

According to a White House statement, the international peacekeepers will leave the island by the end of the year.

With Reuters

Read more:
China to US: Middle East 'not the backyard' of any country
US commits $100 million to support Palestinian hospitals
US President Biden says 'ground not ripe' to restart Israel-Palestinian talks