Saudi Arabia's Crown Prince Mohammed bin Salman said on Monday THE LINE future city in NEOM will run on 100 percent renewable energy and high-speed mobility solutions in an environment free of roads, cars, and emissions.
"THE LINE will run on 100 percent renewable energy and prioritize people's health and well-being over transportation and infrastructure as in traditional cities. It puts nature ahead of development and will contribute to preserving 95 percent of NEOM's land," according to a press release.
For the latest headlines, follow our Google News channel online or via the app.
The Crown Prince said during THE LINE's launch last year, "we committed to a civilizational revolution that puts humans first based on a radical change in urban planning. The designs revealed today for the city's vertically layered communities will challenge the traditional flat, horizontal cities and create a model for nature preservation and enhanced human livability."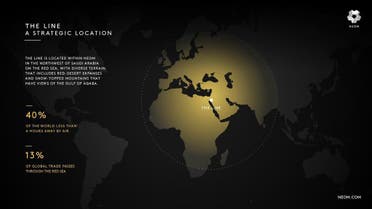 He added, "THE LINE will tackle the challenges facing humanity in urban life today and will shine a light on alternative ways to live."
The Crown Prince had launched in January last year the initial idea and vision of the city that redefines the concept of urban development and what cities of the future should look like.
He announced earlier on Monday the designs of "THE LINE" city in NEOM, which represented a pioneering global model that achieves sustainability and the ideal of living in harmony with nature, state news agency SPA reported.
Read more:
Crown Prince: THE LINE is a model for future cities facing environmental challenges
Saudi Arabia's Crown Prince Mohammed bin Salman announces 'THE LINE' designs in NEOM