A shortage of nurses across the United Arab Emirates amid the country's booming health sector is driving more men across the country to join the front line of care.
Experts say more men working as nurses is a welcome sign of diversity that improves the quality of care for patients' hospital and healthcare settings, saying the UAE needs both male and female nurses to care for patients in view of the patients' cultural demands.
For all the latest headlines follow our Google News channel online or via the app.
Although the gender gap in UAE nursing remains wide, Tholoshnee Lazarus, director of nursing at Abu Dhabi's Salma Rehabilitation Hospital, is among those who feel that the gap is closing.
"A shortage of nurses is currently a substantial challenge in the medical industry and male nurses are needed more than ever to diversify provision of healthcare," she told Al Arabiya English, adding that "many female patients prefer care from female nurses."

But over time, Lazarus said male patients increasingly seek male nurses as the latter may provide a comfortable environment to discuss certain health issues.
"In the region, female nurses are still a majority while in the UAE, male nurses represent eight percent of the total nursing population. However, due to the increasing demand for nursing professionals, we have seen a growth in the number of male nurses in the field."
However, Lazarus said the key needs to be on retaining nursing talent – be that men or women.
"Nursing talent shortage is a global challenge," she explained. "Many nursing professionals tend to move to Western countries after gaining healthcare experience in the UAE or in the region."
Demand for male nurses increase
Saed Salaymeh, nursing director at Burjeel Hospital, Dubai, told Al Arabiya English that the demand for nurses in the UAE is increasing as the country continues to expand, leading to a boom in the number of healthcare facilities.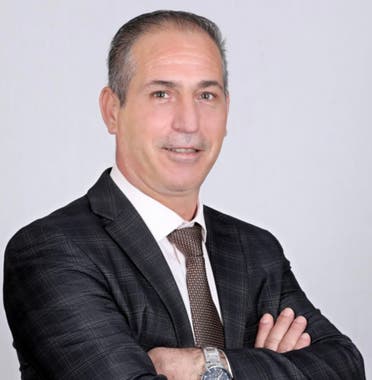 He too said more men are joining the frontline in care and said more male nurses are in demand due to the changing needs of the country.
"We have hospitals or facilities in settings where there is a large concentration of construction workers, for example, and this is good to have male nurses," he explained.
Salaymeh believes the average ratio nurses across the country is about 14 percent to their female counterparts – up from about 8 percent a handful of years go. Across the Bujeel Holdings group in the UAE, male nurses now make up about 35 percent of their total nursing workforce.
Among them is Hafiz Alavi, an emergency nurse at Medeor Hospital in Dubai.
He has been working as a nurse for eight years, five of those he has spent in the UAE.
The Indian expat, who hails from Kerala, explained to Al Arabiya English he pursued the career out of a desire to help others.
"Its my passion to serve the people. We not only help people, but we also save lives. Men are needed in many areas of nursing, such as ICUs. And I say – it is so rewarding. Working as a nurse – it is like a gift."
"Women and men – we are equals in this profession." This, he stressed, was particularly evident during the COVID-19 pandemic.
"This was a time when there was a huge need. It was a gift during this time to serve people."
Gender 'shouldn't matter'
Shazia Amin, director of nursing at NMC Royal Hospital Sharjah, said gender shouldn't matter when it comes to the nursing profession.
"Of course, the proportion of male nurses over female nurses remains low in UAE," she said. "Though men in recent times have considered nursing as a preferred occupation for various reasons, mixed feelings continue to persist about patients' experiences of services provided by male nurses."
"But once you see a nurse in action giving you excellent care – that's when the gender disappears. I strongly feel that public awareness [should] be created on the role of male nurses in the healthcare delivery system to promote acceptance of gender diversity in the nursing profession."
Wanting to spend his life caring for others inspired Belal Khalil to pursue the career path himself. He urged other men not to be put off by the stereotype of nursing.
"Post my secondary school in Jordan, I had to think about my future in terms of my career," Khalil, a nursing unit manager at Salma Rehabilitation Hospital, told Al Arabiya English. "When I saw how many patients needed compassionate care in hospital settings – combined with my passion to help other people, I knew immediately that nursing is the right profession for me."
"During my undergraduate study, I worked as an assistant nurse in a hospital. After graduation, I worked in the same hospital under Intensive Care Unit."
Khalil said, like many fresh graduates, he faced difficulties due to a lack of practical experience.

"But I exerted best efforts to develop my skill sets by studying and learning from experienced doctors and nurses," he said. "Over time, I got promoted to Nursing Team Leader."
"I wanted to expand my nursing portfolio, so in 2008, I looked for opportunities outside my home country – specifically in the UAE, which is highly advanced in terms of healthcare delivery."
Khali spent six years working in emergency departments, before working in an ICU for four years. In 2018, he joined Salma Children's Rehabilitation Hospital.
'COVID-19 showed the importance of nursing'
He said the COVID-19 pandemic showed the importance of those in his profession.
"During the COVID-19 pandemic, our responsibilities and challenges as a nurse increased," he said. "A nurse's role is to be part of the first line of defense against COVID-19 – regardless of gender, age, or nationality."
"The pandemic showed us that the nursing profession is indispensable. The healthcare industry has seen the rise in demand for nursing talents to provide the required care following international standards."
Christian, a Filipino male charge nurse at Dubai's Canadian Specialist Hospital, described nursing as a noble career.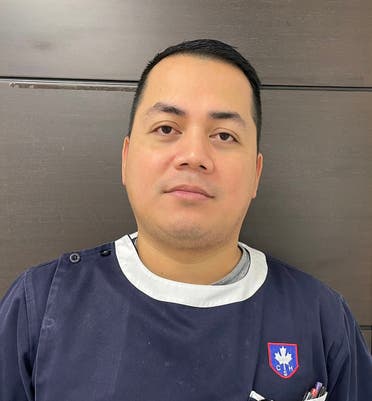 "Being a male nurse is an honor to be in this profession where the women started initially," he told Al Arabiya English. "In general, it is serving the humanity for health care services and longevity, or health preservation is for me the essence of our profession."
"At this point of time, where technological advances are readily available, the requirement for male or female nurses are still required because health care service is a never-ending profession."
"Increasing demand for male nurses at the present is a transition from previous standard since healthcare services is adapting to the demands of the healthcare worldwide."
'We are not men or women – we are just nurses'
Tinu Oommen, a senior registered nurse at NMC Royal Hospital, Sharjah, also said gender should be overlooked in the nursing profession.
"We should not say male and female nurses, separately; together we are 'nurses - the team.' But most of the GCC countries are preferring female nurses, more than males to work in their health care fields."
"Years before, there were only a few men who are choosing nursing as a profession, but the situation changed a lot nowadays, and male nurses are more in numbers compared to before."
"This is a good sign that there is a huge demand for male nurses in healthcare facilities. I saw in many emergency times, that male nurses are ready to face the challenges too. And that's why we can see at least one male nurse in any of the critical care areas."
"Also, seeing many lives - from birth to death, - is really an inspiration and gives us satisfaction when we are done with our duties."
"In GCC, recruiting male nurses is less, when compared to western countries. But, yes, of course, the time will change. We are waiting for that."
Read more:
International Nurses Day 2021: Frontline heroes tell of their own COVID-19 battles
WHO sounds alarm on global midwife shortage, UAE experts urge more to consider career