S.Korea President seeks to boost UAE energy, defense cooperation in first state visit
South Korea's president Yoon Suk Yeol met with the United Arab Emirates' Sheikh Mohamed bin Zayed to boost bilateral relations and cooperation in the fields of energy, investment and defense, the official Emirates News Agency (WAM) reported on Sunday.
Yoon, accompanied by First Lady Kim Keon-hee, was welcomed by the UAE's President Sheikh Mohamed at the Qasr Al Watan in Abu Dhabi with an official reception which saw the attendance of sheikhs and several senior officials from both sides.
For all the latest headlines follow our Google News channel online or via the app.
To kick off Yoon's first official visit to the UAE as president, the two leaders reviewed bilateral relations, discussed ways to enhance their cooperation in various fields, and exchanged views on a number of regional and international issues of mutual concern.
Yoon said that Korea-UAE cooperation in clean energy will help stabilize the global energy market.
"We will support the success of the UAE's hosting of COP 28 [the UN Climate Conference to be held in Dubai] at the end of this year and work together in that regard," he was quoted as saying in a statement published by UAE newspaper Al Ittihad.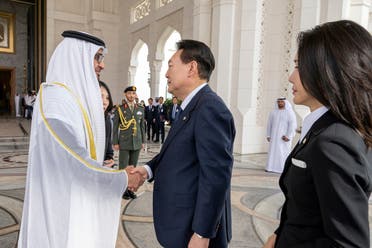 Emphasizing that infrastructure cooperation in large-scale construction is the driving force behind economic development of Korea and the UAE, President Yoon revealed that "approximately 30 percent of the overseas orders our construction companies received in 2022 were from the Middle East."
Relations with the UAE and other Gulf countries are crucial for Korea's energy security with over 50 percent of its oil imports coming from the Gulf, he added and detailed the ongoing talks on Free Trade Agreement (FTA) with Gulf Cooperation Council (GCC).
The South Korean president highlighted that his multi-day state visit carries a special meaning as it is the first state visit since the UAE and the Republic of Korea established diplomatic relations in 1980.
The discussions during the summit focused on enhancing strategic cooperation in four key areas: nuclear power plants, energy, investment, and the defense industry.
The president also emphasized the potential for Korea-UAE cooperation in sectors such as climate change responses, science and technology, future new industries, and healthcare as well as cultural and people-to-people exchanges.
"The potential for Korea-UAE cooperation will be substantial, and doors for bilateral cooperation will be left wide open in all available areas," he said.
"Korea and the UAE have maintained a long-standing strategic partnership, and I intend to use my upcoming visit as an opportunity to expand our countries' friendly cooperation to encompass our efforts to achieve carbon neutrality and strengthen climate action among the world's nations."
"Recently, Gulf countries have been developing future industries in an active and enterprising manner to prepare for the post-oil era. Given Korea's world-class technological prowess, the experience and know-how that we accumulated carrying out projects around the Gulf and the common vision we share with Gulf countries, both sides are optimal partners for each other," he added.
"Starting with the construction of the Barakah Nuclear Power Plant, the UAE is a key partner in future industries, including space, healthcare and medical services, smart farms, and hydrogen."
"Korea and the GCC agreed in 2007 to push for an FTA. The negotiations are currently ongoing with a view to reaching an agreement."
"I am very pleased that I have finally met with President His Highness Sheikh Mohamed bin Zayed Al Nahyan in person during my visit. I look forward to the two of us building a solid friendship and trust," he added.
He added that the region and Korean Peninsula's peace and stability were "important factors for global peace and prosperity," adding that "there is great room for Korea and the UAE to expand our cooperation in the region and global community."
"The UAE has been actively working as a non-permanent member of the UN Security Council in 2022-23. Korea is also seeking a non-permanent member seat on the UN Security Council in 2024-25, and we will work together more closely on the international stage, including at the United Nations."
"Moreover, both sides have considerable room to work together based on a common stance in response to such global challenges as climate change, humanitarian aid and global economic recovery," Yoon said.
Read more:
Kerry says gas can help in slowing planet's warming, but only with carbon capture
UAE launched 11 environmentally friendly energy projects worth $43.2 bln in 2022
UAE energy minister says committed to support balance in oil market