'Alarming' number of UAE women failing to get tested for cervical cancer: Experts
Doctors in the United Arab Emirates are urging women to get screened for cervical cancer, saying many are failing to get tested for the treatable disease.

January is Cervical Cancer Awareness month, highlighting the fourth most common cause of cancer-related deaths in women globally and a leading cause of death among women in the UAE.
For all the latest headlines follow our Google News channel online or via the app.
With early detection through a pap smear, cervical cancer – commonly caused by human papillomavirus (HPV), for which there is a vaccine - is completely treatable.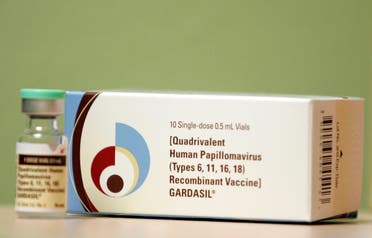 Yet an "alarming" number of women are failing to have get a vaccine or have a routine pap smear test, said Neha K Pande, a specialist in obstetrics and gynecology at the Saudi German Hospital in Sharjah.
"When just by taking a simple and safe vaccine we can protect ourselves and our dear ones from getting this deadly disease then what is stopping us?" she told Al Arabiya English. "HPV infection is notoriously common infecting eight out of 10 women in their lifetime."
"Most of the times the infection will go unnoticed. These findings imply that HPV is as common as the common cold. Each of us are at risk of getting infected by the HPV virus. Once infected the risk of developing cancer is high. Therefore, it is extremely important to get vaccinated against the virus."
Cervical cancer occurs when there is a long-standing infection of certain types of the human papillomavirus in the body. While there are more than 150 types of HPV, only 13 of them cause cancer.
In the UAE, the HPV vaccine is available and administered at health centers and schools. Despite these efforts, uptake on vaccines is low and infection rates remain high.
"Not many cancers are preventable by simply getting a vaccine," said Dr Pande. "If you have not received the vaccine or need further information, contact your health-care provider today. Get vaccinated."
Early detection is key
According to the World Health Organization, regular pap smears can help to prevent up to 90 per cent of the most common type of cervical cancer. Early detection is vital since most women do not report noticeable symptoms until after the cancer has spread to other organs.
Early signs of cervical cancer include abnormal bleeding or abdominal pain and discomfort.
"The pap smear test looks for pre-cancerous cell changes in the cervix that might become cervical cancer if not treated appropriately," said Dr Pande. "If you have a precancerous lesion, you can be treated, and your risk of cancer decreases dramatically."
"Pap smears are readily available, relatively painless, and an easy-to-perform non-invasive test."
"It should be an important part of routine health care of all women."
"Cervical cancer in its early stages may have no symptoms at all, that means you may be harboring a deadly cancer in your body without being aware of it. Getting a regular pap smear provides the best protection against cervical cancer."
Symptoms and detection
It is recommended that woman begin scheduling pap smear from the age of 21.
But depending on a patients' medical history and risk factors, a doctor will recommend when they should start screening and when they need to repeat the test.
"About 80 percent of cervical cancers are curable if diagnosed early," said Dr Pande. "Thanks to modern medicine, women who get regular pap smear are unlikely to die of cervical cancer. Get screened today."
Dr Pranjali Singh, a specialist in obstetrics and gynecology at International Modern Hospital Dubai, told Al Arabiya English that cervical cancer is the fifth most frequent cancer among women in the UAE and the third most frequent cancer among women between 15 and 44 years of age.
Symptoms of early-stage cervical cancer may include irregular blood spotting or light bleeding between periods in women of reproductive age, postmenopausal spotting or bleeding, bleeding after sexual intercourse and increased vaginal discharge.
"Nearly all cases of cervical cancer can be attributed to HPV infection," she said. "A large majority of cervical cancer (more than 95 percent) is due to the human papillomavirus (HPV).
"It is recommended to get the HPV vaccine a few years before marriage."

Doctors also generally recommend the vaccine before a person becomes sexually active as HPV is the most common viral infection of the reproductive tract transmitted through sexual contact.
She too said cervical cancer is preventable and can be cured if diagnosed at an early stage and treated promptly.
"With early detection through a pap smear, cervical cancer is completely treatable," she said, adding that the UAE Ministry of Health and Prevention recommends women aged 25 to 49 to have a pap smear every three years, and women aged 50 to 65 have a pap smear every five years.
The World Health Organization also recommends that girls aged nine to 14 be administered with the HPV vaccine.
Risk factors
Dr Koulshan Mohammad Jameel, a specialist in obstetrics and gynecology at the Canadian Specialist Hospital Dubai, said that in addition to the HPV virus, there are also other risk factors for cervical cancer.
These include smoking, long-term use of birth control pills and weakened immune systems.
"Cervical cancer can be prevented in the event of early detection, through periodic examinations of cervical cells. When there are certain changes, we resort to examining the papilloma virus that causes the disease, and in the case of a high-risk virus, we resort to the speculum and taking a tissue sample from the cervix and examining it in the laboratory."
"In the event that the case is proven, there will be other examinations such as ultrasound or magnetic resonance imaging to diagnose the cancerous stage and then treatment based on the cancerous stage."
Read more:
'Sick Building Syndrome': UAE doctors see spike in illness from office environments
UAE nursing demand drives more men to join the frontline
Cancer diagnoses lag after screenings fall during coronavirus pandemic: US study