UAE, Saudi employees can expect pay rises, bonuses in 2023: Experts
Many employees across the United Arab Emirates and Saudi Arabia can expect a pay rise, a bonus or both in 2023, experts say, as companies work to attract and retain staff and take into consideration the rising costs of living.
Recruitment specialists across the GCC have told Al Arabiya English that monetary rewards are expected across a range of sectors, with employees also offering other incentives such as flexible working as benefits to employees.
For all the latest headlines follow our Google News channel online or via the app.
Jeron Van Den Elshout, business director at Hays recruitment and HR specialists, said – based on their research - while pay rises can be expected – in most markets employees should not expect a huge hike.
"We expect to see salary increases in both the UAE and Saudi Arabia, with the average pay increase being less than 10 percent," he said. "Bonuses are in line for some employees in both regions, too."
"While bonuses vary depending on the organization, the average bonus is often between one to three months base salary."
Pay rises boost morale
Monetary rewards are important for employee morale, he said.
"Pay increases and bonuses are good for staff retention and motivation, with low salary and benefits packages not aligned with employee needs cited as reasons for changing jobs," he told Al Arabiya English. "However, there is also an increased focus on employee well-being and work-life balance, including flexible working and ensuring the culture is fitting to the professional lifestyle."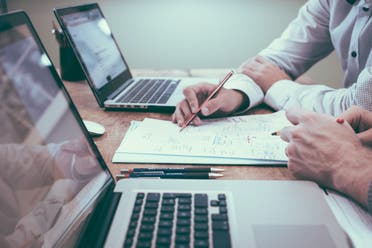 Some sectors can expect bigger salary hikes than others, he said.
"We're expecting to see the biggest pay rises in the technology sector, specifically within the data and cyber security spaces due to skills shortages," he said.
Earlier this month, a survey by jobs portal Bayt.com and market research agency YouGov found that more than half of all employees (53 percent) in the UAE expect to receive a salary increase this year.
About seven in 10 employees in the country believe their salaries are either increasing or staying the same this year, according to the poll, which surveyed 2,941 people from countries including the UAE, Saudi Arabia, Kuwait, Lebanon and Jordan, in November last year.
An increase in opportunities, economic growth, intense competition in attracting and retaining talent and good corporate performance or improved profitability were some of the reasons cited for the expected rise in salaries.
The top benefits provided by employers apart from salary, were medical insurance, which was picked by 46 percent of UAE-based workers, followed by annual air tickets and gratuities.
Other popular benefits include transport and housing allowances, and medical cover for the family, the findings showed.
"Employers need to treat compensation as an integral part of an employee's reward, and monitor major factors driving the salary expectations," said Ola Haddad, director of human resources at Bayt.com.
Nicki Wilson, managing director of Genir, a specialist recruitment consultancy covering the consumer industry in the UAE, said pay rises might be on the cards for some – but not across the board – with employees in Saudi Arabia more likely than the UAE to see financial remuneration as it continues with expansion and economic reform under is ambitious 2030 plans.
"So far, we generally have not seen a noticeable shift in salary increases only in roles that perhaps are high in demand or where the talent pool might be smaller than in other areas," she told Al Arabiya English. "When it comes to Saudi Arabia, I believe there will be more benefits available than in the UAE and higher salaries to attract talent to aid with the huge economic growth that is expected over the coming years - especially around technological advancements in the Kingdom, across some of the new mega projects or just to help in changing perceptions."
"We probably won't see footballer levels of salary increases but we will definitely see more people pique with interest when it comes to the changing landscape of Saudi and what it can offer."
But when it comes to securing a salary increment, Wilson said employees can also do their bit.
"Working hard to show dedication, putting across an argument to get that pay increase, asking for schooling or other benefits or just putting forward ideas to HR would all be plans of action to put into place as an employee."
Bonuses making a 'comeback'
Wilson believes bonuses are more likely than pay rises.
"For a while, we saw many companies not achieve bonus, or even eradicate them altogether," she said. "I do believe bonuses and other benefits will see a comeback in the competition to retain talent."
"With the cost-of-living increasing and families often being priced out of the market, companies may look at one off cash bonus, incentives based on growth or even benefits such as schooling being brought back."
"It is very difficult to offer salary increases without looking at all staff, since whether you think it or not, team members do speak and compare salaries even when they should not. This is where one-off bonuses or performance related incentives can work well."
"There is no average bonus but having quarterly or annual bonuses are always welcomed by workers of all levels. One-off cash bonuses, gift cards, fun incentives, dinners out or even just acknowledging one's successes can really make a big impact."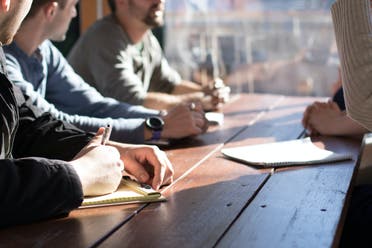 "Employees want to be seen for the effort they are putting in so whether a well done or gift card it all adds up to building a great culture. This in turn increases staff retention."
Moving to a new company can also prove to be an attractive proposition for workers across the GCC, said Wilson.
"Typically, if you are to make a move to a different company, this is a bit different as we would expect to see increases of 15 to 20 percent, on average. Saying this though, some companies may have tighter budgets, so it is not a one size fits all."
But Wilson would urge against leaving an employer simply for a pay rise.
"I would always suggest, if you absolutely love a company, show flexibility and understanding," she said. "Costs have not just risen for the average person; they have risen for the average company too."
"When looking outside of your current role it is better to look at the whole picture rather than just a salary."
"If somewhere can offer you the progression, culture or even flexibility that you seek then salary should only be a small aspect of making a move."
That same flexibility should also be shown by employers looking to keep staff, she said.
"Employers should really think about their team and if someone is a top performer, think of ways to reward that and make sure there are no broken promises," she said. "We hear it a lot, the motivation to leave can often be broken promises such as I was promised a salary increase by Q4 and did not receive one, etc."
Employees wants and needs are changing
Wilson said there has been a huge shift over the past two years when it comes to candidates' motivations to move on from their current role.
"The hottest word on the market was 'culture'," she said. "Building a great work culture is often worth more than increases in salary, or bonuses etc."
"Many people are not happy in their jobs regardless of the salary or increments. With global economic downturn on the horizon many people may remember how they felt when their employers were not transparent or supportive in a time of need (for example, during the pandemic). So, I would highly suggest that transparency is key."
There are other measures that employers can do to motivate and retain staff, said Wilson.
"Show clear career progression plans and show trust - whether there is flexibility at work, or just letting people get on with projects it is important to show trust in your team…otherwise you should not have hired them in the first place."
"Also - be approachable. Being supportive to your staff or subordinates is key, showing compassion and leading with empathy will put you heads and above the competition. Most employees will go through stress, issues at home, or even emergencies and knowing you have full support of your manager or boss is really reassuring."
"Also, be open and honest with any developments and – most importantly - listen to your team. All the clues are generally there as to what the staff actually want, and you may be pleasantly surprised that they are not all monetary."
Read more:
UAE firms prove COVID-19 resilience with 4 percent pay hike in 2022
Remote, flexible work to boost travel spending by UAE, Saudi travelers in 2023
Majority of UAE residents believe they can fulfill job remotely: Survey