Dubai Police handle 16,610 calls in 24 hours as UAE braces for more wet weather
The Dubai Police Command and Control Center handled 16,610 calls via the emergency numbers 999 and 901 over a 24-hour period - many due to accidents on the roads - as heavy rainfall lashed the emirate and other parts of the country.
Dubai Police said they handled the influx of calls between Wednesday 12:00 pm and 12:00 pm Thursday in light of the wet weather.
For all the latest headlines follow our Google News channel online or via the app.
According to Lieutenant Colonel Bilal al-Tayer, Acting Director of the Command and Control Center, 15,286 of these calls were made to the emergency number (999), while 1,324 calls were made to the Dubai Police non-emergency call center (901).
The United Arab Emirates has been hit by heavy downpours, thunder and lightning this week, forcing some schools to switch to remote learning, attractions to be shut and roads to be sealed off.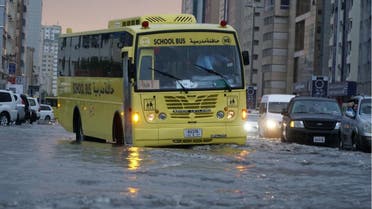 Al-Tayer assured the public of the force's readiness to handle any situation and to ensure the safety of the community. He also urged the public to call 999 in emergencies only and 901 for non-emergency inquiries.
Al-Tayer further urged motorists to exercise caution while driving during adverse weather conditions and to be aware of potential hazards such as flash floods and strong winds.
He also advised beach-goers to take necessary safety precautions and avoid entering the sea during unstable conditions.
His warning comes as the UAE braces for another day of rainfall.
More downpours are expected on Friday, with a chance of further rain on Saturday, the National Center of Meteorology.
Read more:
More heavy rain to lash the UAE as country records a wet start to 2023
Heavy rain, thunderstorms batter parts of the UAE
Police urge driver caution as more wet weather set to lash UAE