Dubai drug bust: 28 suspects, 3 drug trafficking rings with products worth $8.7 mln
Dubai Police rounded up a combined 28 suspects who were running drug rings with products worth $8.7 million (AED 32 million).
In a report published by the authorities on Friday, the drug traffickers were busted while attempting to promote 111 kilograms of various narcotics.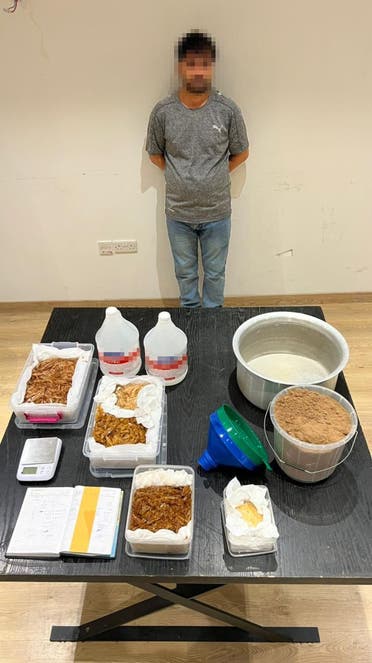 For all the latest headlines, follow our Google News channel online or via the app.
The first operation thwarted a three-member gang reportedly attempting to trade 99 kilograms of Captagon across the UAE, worth over $8.4 million (AED 31 million). The trio were picked up in planned ambush.
The following operation saw the arrest of one suspect who reportedly promoted narcotics using an international mobile number. He was found in possession of 9.7 kilograms of crystal meth and tools used in filtering and manufacturing the drug.
The final operation targeted one person who reportedly used social media to promote the drugs. After locating and arresting the suspect, it led to the identification and arrest of 23 more individuals who were found to be in possession of heroin, crystal meth, and hashish.
Authorities in Dubai and the wider UAE routinely conduct missions and thwart drug dealing and smuggling in the country.
One such instance, mid last year, Al Arabiya English learned that Dubai Customs made 936 drug seizures across its land, sea, air and passenger ports only in the first four months of 2022. This included several attempts to smuggle narcotic substances, which included tramadol tablets, Captagon, opium, heroin, hemp seeds, crystal meth, marijuana, and other narcotics
In 2021, Dubai Customs made the largest ever haul of Captagon, a type of amphetamine-style stimulant fenethylline that continues to be manufactured, mostly in Lebanon and Syria, for illegal recreational use.
It is one of the more prevalent narcotics in the Middle East. The Dubai Police warned the community to exercise caution when receiving messages from unknown sources and to report any suspicious activity immediately.
Read more:
Psychedelic spiritual groups, churches grow in US
Saudi Arabia foils attempt to smuggle almost 3mln Captagon pills, arrests two
Dubai Police in cooperation with Europol bust cocaine 'super-cartel'