Turkey, Syria earthquake: How and what to donate to UAE relief efforts
As the death toll from this week's massive earthquakes and aftershocks in Syria and Turkey passed 21,700 as of Friday morning, the world is coming together to help the embattled countries and provide vital aid for the tens of thousands of citizens left without shelter and vital supplies.
Countless victims, many of whom have lost their homes, have been left without provisions to survive harsh winter conditions and need urgent relief aid.
For all the latest headlines follow our Google News channel online or via the app.
Campaigns in the UAE
In the United Arab Emirates, the Emirates Red Crescent on Wednesday announced its campaign to help people affected by the earthquakes in, naming it "Bridges of Good."
The drive will begin packing initial aid on Saturday, from 9 a.m. to 2 p.m. at Abu Dhabi National Exhibition center and Dubai Exhibition Center at Expo City Dubai.
The campaign will run for two weeks where volunteers are needed to help pack relief boxes for survivors of the earthquakes.
Suggested donation items include winter clothes, blankets, canned food and baby food, and personal hygiene items including diapers, wipes and sanitary pads.
The campaign is being organized in partnership with the UAE Ministry of Foreign Affairs and International Co-operation and the Ministry of Community Development. Anyone who wants to volunteer can register via the website volunteers.ae.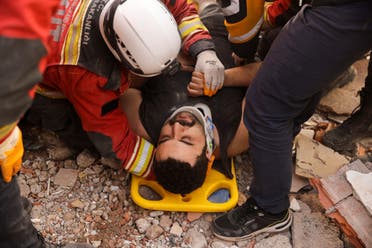 More than a dozen humanitarian organizations across the UAE are participating in the campaign. These include Dubai Cares, the Department of Islamic Affairs and Charitable Activities in Dubai, the Zayed bin Sultan Al Nahyan Charitable and Humanitarian Foundation, the Khalifa bin Zayed Al Nahyan Foundation, the Mohammed bin Rashid Al Maktoum Global Initiatives, and the Mohammed bin Rashid Al Maktoum Humanitarian and Charity
"Bridges of Good" is one of several humanitarian missions being staged across the UAE.
Turkey's consulate in Dubai has also launched a donation drive for vital food and winter clothing to support survivors. Across the emirate, members of the public are being invited to supply essentials, including clothing and food.
Meanwhile, the Turkish embassy in Abu Dhabi set up a donation drive for UAE residents to donate items urgently needed in Turkey and Syria. Those who wish to donate large quantities of items can drop them off at the CSS Homeward Bound transportation company warehouse directly.
International aid efforts
Internationally, hundreds of donation sites by international charities and local community groups from all over the world have also been created to help those in need.
Among those, UNICEF is working to provide immediate assistance with search and rescue, coordinating evacuations, and distributing hygiene kits, blankets and warm clothing.
"Children who are now in immediate danger of being hurt or killed in the oncoming aftershocks and collapse of infrastructures need urgent shelter, safe drinking water, and hygiene essentials," the charity said in an online appeal for donations.
"Eleven years into the conflict, economic downturn, and displacement have left hundreds of thousands of families struggling to survive in Syria. Now, the impact of such a devastating earthquake makes the situation even more desperate."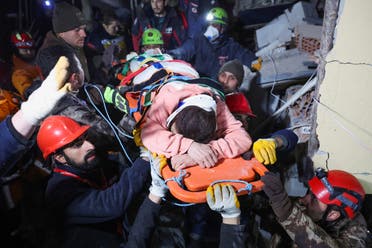 Doctors Without Borders (MSF) - an international organization that provides medical aid to various countries in need - has been treating people in Turkey in their associated hospitals and has been donating emergency medical kits to other people in the region. It has also urged people to donate through its website.
Another charity that is counting on public donations is the Syrian American Medical Society, which has provided humanitarian and medical relief for Syria and Turkey since 2011.
They are currently providing medical assistance at the Bab al-Hawa hospital in Syria for victims of the earthquake.
Care International, a humanitarian organization that has presence in Turkey and Syria, has also urged people to give emergency aid including food, shelter, hygiene kits, cold weather supplies and cash assistance.
In a public appeal, Red Crescent organizations in both Syria and Turkey have asked people to donate first aid kids, blankets and clothes.
It said it urgently needs items including biscuits, bread, energy bars, flour, ready-to-eat meals, pasta, rice, milk, and baby formula.
The Syria Civil defense – known as the White Helmets – is a humanitarian organization specializing in search and rescue operations and its team of volunteers are continuing to work around the clock in a race against time to find survivors of the earthquake.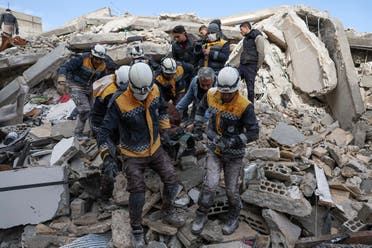 The group has solicited donations through its website.
"There is an urgent need for additional search and rescue equipment, heavy equipment, spare parts and fuel due to the number of collapsed buildings and to the damage to existing equipment," the Syria Civil defense wrote in a statement. "White Helmets equipment and supplies are not currently sufficient to meet these urgent needs. The White Helmets calls on all humanitarian organizations and international donors to provide material support and to help organizations responding to this disaster and to urgently assist victims of the earthquake."
The 7.8 magnitude earthquake hit the border region between Turkey and Syria, an area home to more than 13.5 million people, on Monday.
The death toll from the earthquake, which Turkish President Recep Tayyip Erdogan called "the disaster of the century," has risen past 21,000, eclipsing the more than 18,400 who died in the 2011 earthquake off Fukushima, Japan, that triggered a tsunami and the estimated 18,000 people who died in a temblor near the Turkish capital, Istanbul, in 1999.
The new figure, which is certain to rise, included over 17,600 people in Turkey and more than 3,300 in civil war-torn Syria. Tens of thousands were also injured and many tens of thousands have been left homeless.
Read more:
Turkey-Syria earthquake: Death toll continues to rise as rescues dwindle in aftermath
Turkey-Syria earthquake death toll tops 20,000 as hope to find survivors fades
Turkey-Syria earthquake: UAE mosques to hold absentee funeral prayers for victims