Syria earthquake: UAE donates search, rescue equipment as Syrians reel from disaster
The UAE has donated the search and rescue equipment it used in its "Gallant Knight/2" Operation in the aftermath of the devastating earthquake that hit Syria, the Emirates News Agency (WAM) reported.
Under the directives of UAE President Sheikh Mohamed bin Zayed, the equipment was donated to the Syrian Civil Defense who continue to dig through the rubble of collapsed buildings in hopes of finding any survivors or recovering bodies of missing people.
For the latest headlines, follow our Google News channel online or via the app.
The donation came after the UAE's interior ministry announced the end of its search and rescue operation in Syria and would now be directing its resources to the "support and training" stage, according to WAM.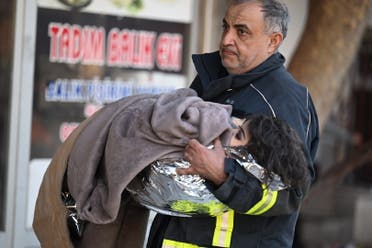 UAE rescue teams, made up of 42 people, worked for about 240 hours to help the Syrian Civil Defense in the days following the 7.8-magintude quake that struck on February 6.
More than 40,000 people were killed in Syria and Turkey, and hundreds of thousands were injured and left homeless.
The team will continue its work and will focus on providing all logistical support and training to the Syrian search and rescue teams to deal with any cases regarding the evacuation of trapped or stranded people.
Lieutenant Colonel Hamad al-Kaabi, Commander of the Emirati Search and Rescue Team in Syria, said that the rescue operation has been successful so far, with no reports of remaining people missing or trapped under rubble.
The UAE on Wednesday announced it will provide an additional $50 million in aid to quake-hit Syria under the directives of Sheikh Mohamed.
Of the $50 million, $20 million will be allocated for "humanitarian projects in response to the emergency appeal of the United Nations in Syria," according to WAM.

Read more:
Syria, Turkey earthquake: Menstruation doesn't stop in times of crisis, NGOs warn
UAE to provide Syria with additional $50 million in aid after deadly earthquakes
UAE rescuers save 2, including child, from rubble 120 hours after Turkey earthquake