UAE's Ramadan rules for non-Muslims, reduced working hours, holidays explained
Ramadan is a special time for Muslims around the world, and the United Arab Emirates' Muslim community is no exception.
Ramadan is the ninth month of the Islamic calendar and is observed as a time of fasting, spiritual reflection, devotion, and increased charity. In the UAE, the holy month is marked with various traditions and customs that are followed by Muslims, as well as non-Muslims who are living or visiting the country.
For all the latest headlines follow our Google News channel online or via the app.
The start of Ramadan changes every year based on the Islamic calendar, which consists of 12 lunar months totaling either 354 or 355 days. This causes the fasting month to move up to 10 days earlier each year in the Gregorian calendar.
This year, it is expected to fall on March 22 or 23 until April 21. However, dates may vary based on the sighting of the new crescent moon that indicates the month of Shawwal's arrival, or after the 30th day of Ramadan.
It is important for non-Muslim residents or tourists in the UAE to understand the rules and etiquette surrounding Ramadan to ensure respect of the local culture and traditions.
Here is an overview of the rules for non-Muslims during Ramadan, the expected working hours, and the upcoming Eid holidays in the UAE.
Rules for non-Muslims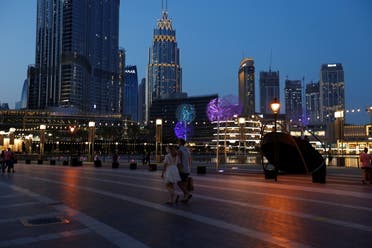 While non-Muslims are not required to fast during Ramadan, they are expected to respect the customs and traditions of the Holy Month.
The UAE government has rules for non-Muslims to follow during Ramadan, which include refraining from eating, drinking, smoking, or chewing gum in public during the fasting hours.
Non-Muslims are expected to avoid engaging in any aggressive behavior, playing loud music, wearing inappropriate clothing, and using any offensive language. They are also encouraged to accept invitations to Iftar meals, which are the breaking of fasts, and to join in the spirit of the season.
While most people in the UAE will be fasting during the day, some malls and restaurants will remain open during Ramadan to serve non-Muslims, children, and the elderly.
It is important to remember that these establishments will still be expected to adhere to the rules and regulations set out by the UAE government during Ramadan.
Ramadan working hours

During Ramadan, those employed in the UAE can expect shorter working hours.
As per the country's labor law, private sector workers are required to work eight hours per day or 48 hours per week. However, during the Holy Month, working hours are reduced by two hours, meaning that workers will only be required to work six hours per day or 36 hours per week.
The time it takes to commute from the employee's place of residence to the workplace will not constitute working hours, except for certain categories of workers as specified by the 'Executive Regulations of the Labor Law.'
Those who are fasting during Ramadan will maintain up to 14 hours of fasting per day. Each day, the duration of the fast will increase by a few minutes, so it is important to plan your day accordingly.
UAE Iftar timings
During Ramadan, there are two main meals: Suhoor and Iftar.
Iftar is the meal that breaks the fast, and it is usually consumed at sunset, while Suhoor is consumed early in the morning before sunrise, just before the fasting hours begin.
The UAE timings to break the fast (Iftar) during the Holy Month of Ramadan are as follows:
March 23: 18:31
March 24: 18:32
March 25: 18:32
March 26: 18:33
March 27: 18:33
March 28: 18:33
March 29: 18:34
March 30: 18:34
March 31: 18:35
April 01: 18:35
April 02: 18:36
April 03: 18:36
April 04: 18:37
April 05: 18:37
April 06: 18:37
April 07: 18:38
April 08: 18:38
April 09: 18:39
April 10: 18:39
April 11: 18:40
April 12: 18:40
April 13: 18:41
April 14: 18:41
April 15: 18:41
April 16: 18:42
April 17: 18:42
April 18: 18:43
April 19: 18:43
April 20: 18:44
April 21: 18:44
Eid al-Fitr and other holidays
Based on astronomical charts, the UAE is set to celebrate Eid al-Fitr from April 20 to 23. However, the exact dates will be confirmed by the moon-sighting committee later.
After Eid al-Fitr there are officially five more occasions in 2023 where UAE residents will be given one or more days off.
The UAE government recently announced a list of approved holidays for this year, which includes:
· Eid al-Fitr: Day 29 of Ramadan to Shawwal 3
· Arafah Day: June 27-28
· Eid al-Adha: June 28- July 1
· Hijri New Year: July 21
· Prophet Mohammed's birthday: September 29
· National Day: December 2-3
Ramadan is a time of spiritual reflection, devotion, and increased charity. It is a time for Muslims to deepen their connection to God and to practice compassion and kindness towards others.
The UAE is a country that welcomes people of all faiths and backgrounds, and during Ramadan, it is important for all residents and visitors to show respect and support for the Muslim community.
By following the customs and traditions of the holy month, non-Muslims can help create a spirit of unity and cooperation that is essential.
Read more:
Ramadan and Eid al-Fitr 2023: Expected dates, public holidays in UAE, Saudi Arabia
Expo City Dubai hopes to bring the world together again during this Ramadan
Ramadan 2023: Reduced working hours expected for UAE employees