Dubai ruler Sheikh Mohammed launches UAE's Etihad Rail freight train network
Sheikh Mohammed bin Rashid, Vice President and Ruler of Dubai, has officially opened the UAE's freight train network, the latest stage of Etihad Rail, the country's mega national network project.
Sheikh Mohammed announced the launch of the freight network at the main control and maintenance center in Abu Dhabi's Al Fayah region on Thursday, state news agency WAM reported.
For all the latest headlines follow our Google News channel online or via the app.
He said: "We are proud of the performance of our sons and daughters who have worked hard over the years to build an ambitious strategic project that will propel our national economy to greater heights."
"Connecting the Emirates via a national railway network strengthens our capabilities and competitiveness, and consolidates our unity," he said.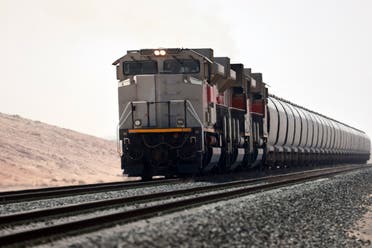 The network consists of a fleet of 38 locomotives and more than 1,000 wagons capable of transporting all types of goods.
Each goods transport's locomotive operates with a power of 4,500 horsepower, equivalent to 3,400 kilowatts. It is one of the most powerful freight train engines in the Middle East.
In total, 11 contractors, 25 consultants, and 28,000 specialists have worked on the project. It took 133 million working hours to complete, and 40,000 approvals from 180 government agencies.
More than 1,000 operational documents have been produced, including instructions, handbooks, guidelines, policies, operating procedures, agreements, and others.
It will connect four major ports and seven logistics centers across the country.
The network also includes a number of charging stations located in Ruwais, the Industrial City of Abu Dhabi, Khalifa Port, Dubai Industrial City, Jebel Ali Port, Al Ghail and Fujairah Port.
These locations are a major hub for local and regional distribution and logistics services, as they include customs warehouses and on-site cargo inspection services.
Sheikh Theyab bin Mohamed bin Zayed Al Nahyan, Member of the Abu Dhabi Executive Council and Chairman of Etihad Rail, said: "Emirati talents, with the support of the UAE leadership, have turned the dream of our founding fathers into reality."
"Thanks to them, we won the bet, and we succeeded in launching a railway network with international specifications that extends to about 900 kilometres across the Emirates. We announce the inauguration operation of the freight trains throughout the UAE with a fleet of 38 locomotives and more than 1,000 wagons capable of transporting all types of goods."
The Etihad Rail project, which will link the country's trade, industry and population, is rapidly progressing.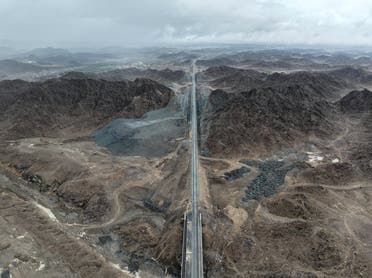 The ambitious development project is one of the largest infrastructure projects in the region and aims to link the seven emirates with a main railway network.
More than two thirds of the line have already been constructed. Once completed, it is expected to carry millions of passengers annually between the country's major cities by 2030.
Last June, Etihad Rail announced that its first passenger train station will be located in Fujairah and will connect 11 regions across the United Arab Emirates once completed.
It will allow passengers to travel from Abu Dhabi to Dubai in 50 minutes, and from Abu Dhabi to Fujairah in 100 minutes. No start date for the passenger service has been made public to date.
The first phase of the Etihad Rail has been fully operational since 2016 and is also expected is also expected to provide a vital transport link outside of the UAE's borders.
In September, the UAE and Oman inked a $3 billion deal to link the two GCC countries by passenger rail - connecting Abu Dhabi with Sohar to the north of Muscat.
The venture will see the two countries jointly establish an equally-owned company, Oman-Etihad Rail Company.
The newly created entity will hold an overall investment power of $3 billion to design, develop and operate a railway network connecting Sohar Port to the UAE National Rail Network.
The much-anticipated 303-km railway will primarily link Sohar to Abu Dhabi.
The passenger trains are designed to reduce travel time from Sohar to Abu Dhabi to 1 hour 40 minutes, and from Sohar to Al Ain to 47 minutes, travelling at a maximum speed of 200 km/h. Meanwhile, the freight trains will run up to 120 km/h.
The UAE national railway network will contribute to supporting the national economy at a value of $54 billion. The network's tourism benefits are estimated at $6.2 billion.
The project has contributed to supporting the local industry by assigning 215 companies and local entities. also, 70 percent of the building materials used in the project are produced by the local industry.
The project also supports the UAE's sustainable development goals and contributes to achieving the UAE Net Zero by 2050, through reducing carbon emissions in the road transport sector by 21 percent, and reducing road transportation emissions per capita by 40 percent, by 2050.
This national project contributed to supporting the Emiratization agenda and graduating qualified cadres to work in the sector. Now Emirati nationals are taking over a number of technical positions at Etihad Rail, including the roles of train captain, traffic controller, train inspector in addition to other specializations.
Read more:
UAE's Etihad Rail makes progress on Abu Dhabi network
UAE, Oman ink $3 bln deal to link countries by passenger train