UAE astronaut Sultan al-Neyadi enters the International Space Station
Emirati astronaut Sultan al-Neyadi landed at the International Space Station (ISS) on Friday a day after blasting off in a spacecraft from NASA's Kennedy Space Center in Florida.
The SpaceX Dragon capsule, named Endeavour, docked shortly after 10.40 a.m. UAE time following a 24-hour journey to ISS where al-Neyadi and his three crew members will spend the next six months in what will be the Arab world's longest space mission. It will see experiments ranging from human cell growth in space to controlling combustible materials in microgravity.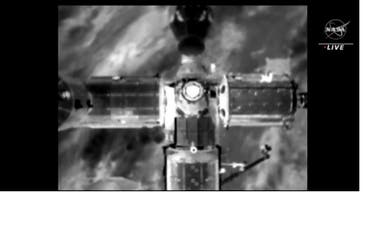 For all the latest headlines follow our Google News channel online or via the app.
After a short wait 20 meters from ISS to fix a troubleshooting issue, the Dragon capsule docked autonomously to the space-facing port of the station.
The docking sequence finished at about 10.54 a.m. with the four-crew officially welcomed to ISS.
The coupling was confirmed as the ISS and capsule flew in tandem at 17,500 miles per hour (28,164 kph) about 250 miles (420km) above Earth across the coast of East Africa, according to a live NASA webcast of the rendezvous.
SpaceX crew conducted final checks before the hatch opened and the astronauts boarded the station and joined the Expedition 68, consisting of seven other astronauts, shortly after 12.50 p.m. UAE time.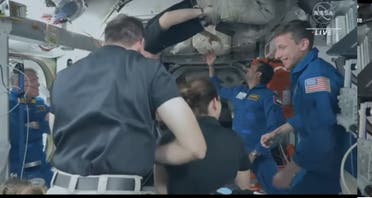 Minutes after boarding ISS, a grinning al-Neyadi let his mascot for the UAE's space mission – Suhail – float into the atmosphere.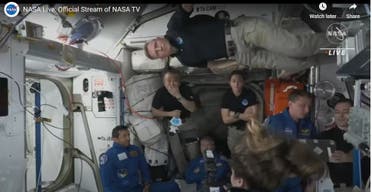 The stuffed toy served as an additional crewmate during Emirati astronaut Hazza al-Mansouri's stay on board the ISS, three and a half years ago, and has now accompanied al-Neyadi into space.
On Thursday, al-Neyadi welcomed the mascot – which is a physical depiction of a cartoon character to spark interest in space and Stem subjects (science, technology, engineering and mathematics) in the next generation – on the mission, saying: "Allow me to introduce you to the fifth crew member. His name is Suhail and it is the Arabic name for the star Canopus."
Shortly after arriving on ISS, al-Neyadi has a message for those back on Earth.
"I would like to thank my family, my parents, the Mohammed bin Rashid Space Centre, to give me the trust…I cant be happier than this. This is the essence of space exploration. Go Dragon, Go SpaceX."
For a short time, the 11 crew members will live and work in space together until four of the previous crew return to Earth in a few days.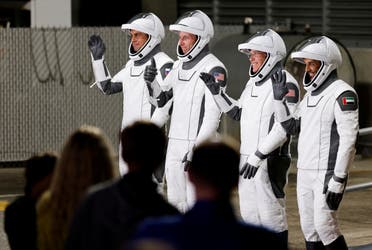 The international crew are NASA's sixth commercial crew rotation mission with SpaceX aboard the orbital laboratory.
"Congratulations to the NASA and SpaceX teams for another history-making mission to the International Space Station," said NASA Administrator Bill Nelson. "Crew-6 will be busy aboard the International Space Station, conducting over 200 experiments that will help us to prepare for missions to the Moon, Mars, and beyond, as well as improve life here on Earth. We look forward to seeing all that they accomplish."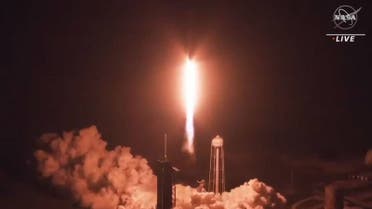 Conducting new scientific research, Crew-6 will help prepare for human exploration beyond low-Earth orbit and benefit life on Earth. Experiments will include studies of how particular materials burn in microgravity, tissue chip research on heart, brain, and cartilage functions, and an investigation that will collect microbial samples from the outside of the space station. These are just some of the hundreds of science experiments and technology demonstrations that will take place during their mission.
Nearly 80 spectators from the United Arab Emirates watched from the launch site as astronaut al-Neyadi — only the second Emirati to fly to space — blasted off on his mission on the Falcon 9 rocket carrying their detachable spacecraft
NASA confirmed shortly after 9:50 a.m. Thursday that the Dragon carrying the astronauts and the Falcon 9 separated as planned. Shortly after, al-Neyadi, 41, sent a message from space on the live feed, saying: "Thanks to my parents, my family, thanks to our leadership...thank you for everyone who trained us and got us ready for this mission."
"The launch was incredible. And, lastly, thanks to Nasa and SpaceX. Go Dragon and go SpaceX."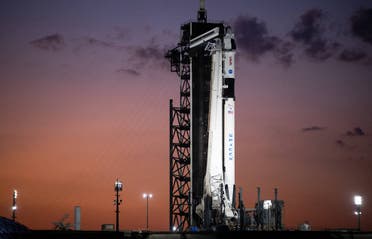 The Crew-6 launch is carrying two NASA astronauts, Mission Commander Stephen Bowen and Pilot Warren Hoburg, along with the UAE's al-Neyadi, and Roscosmos cosmonaut Andrey Fedyaev, who will serve as mission specialists for a space station science expedition.
Dr al-Neyadi is only the second ever Emirati to travel into space, following Hazza al-Mansouri's eight-day stay on the ISS in 2019. He is also the first Emirati to launch from US soil as part of a long-duration space station team.
After the successful launch, UAE President Sheikh Mohamed bin Zayed Al Nahyan said: "I join the nation in congratulating Sultan al-Neyadi as he begins his pioneering mission aboard the International Space Station."
"His inspiring achievement is a source of great pride to the UAE and another milestone in the journey of our nation and the ambitions of our people."
Read more:
UAE's historic space mission: SpaceX astronauts blast off
Last-minute technical problem keeps SpaceX rocket, astronauts grounded
UAE announces details of first long-duration Arab astronaut mission