Saudi Crown Prince discusses Riyadh Expo 2030 bid with visiting delegation
Saudi Arabia's Crown Prince Mohammed bin Salman has received the chairperson of the Bureau International des Expositions (BIE) to discuss the Kingdom's bid to host the World Expo 2030.
A delegation arrived in Riyadh on Sunday to start a six-day evaluation process of the Saudi capital's candidacy for the world fair.
For all the latest headlines follow our Google News channel online or via the app.
On Monday, BIE held the first workshop to assess the Kingdom's bid. The first workshop was organized with the presence of Fahd al-Rasheed, CEO of Royal Commission for Riyadh City, and members of the BIE's visiting delegation as well as a number of representatives of concerned agencies.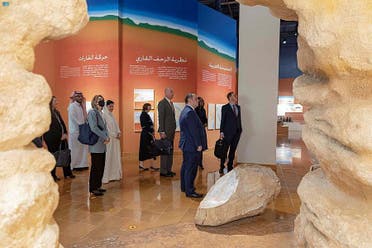 The workshop discussed the Kingdom of Saudi Arabia's Expo 2030 bid and the added value of hosting the high-profile global exhibition in Riyadh.
During the workshop, al-Rasheed explained that Riyadh has the potential to host an exceptional version of the World Expo thanks to the leadership of the Crown Prince and Riyadh's past experience in hosting large international events, state news agency SPA reported.
The delegation has also met with Minister of Finance Mohammed bin Abdullah al-Jadaan and reviewed the details related to the Kingdom's commitment to financially support the exhibition.
The minister voiced the Kingdom's commitment to put in place all necessary preparations to finance and host the World Expo, including providing basic and operational expenditures.
Al-Jadaan added that the economic and financial reforms the Kingdom has witnessed as per the Saudi Vision 2030 have led to pushing and accelerating the growth rate, adding that the World Expo falls within the Kingdom's initiatives which will contribute to creating various economic opportunities and achieving revenues to several sectors in Riyadh.
During the visit, the BIE mission will engage with Saudi ministers, members of government and other experts to evaluate the details of the Riyadh Expo 2030 bid.
In October 2021 Saudi Arabia announced its bid to host World Expo 2030 in Riyadh and has since made three presentations to the BIE.
The mission is being led by Patrick Specht, president of the BIE administration and budget committee.
The mission's visit is mandatory for a country to be considered as host.
Its task is to assess the feasibility and viability of each candidate city.
The findings will be discussed by the BIE's executive committee in May, which will decide which applicants to retain as being feasible and viable.
In November, at the 173rd general assembly of the BIE, the host of World Expo 2030 will be elected via a secret ballot based on the principle of "one country, one vote."
Read more:
World Expo 2030: Enquiry Mission in Riyadh to begin evaluations of candidates
Saudi Arabia officially submits application bid to host World Expo 2030 in Riyadh