What are the different weight-loss drugs? Ozempic, Wegovy, and a 'miracle cure' plant
The weight loss industry is worth billions, and one of the most popular approaches is through medication - touted as a quick fix for shedding pounds and curbing cravings.
Pills and injections that help individuals lose weight and curb hunger pangs are often hailed as the Holy Grail to effortless fat-blasting that previously seemed unattainable.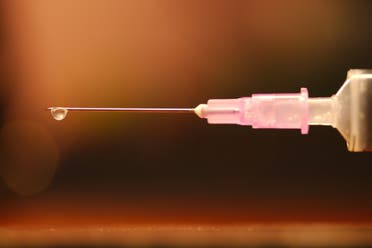 For all the latest headlines follow our Google News channel online or via the app.
However, all weight-loss medications come with side effects.
Here are the latest diet drugs, how they work, and their side effects.
Wegovy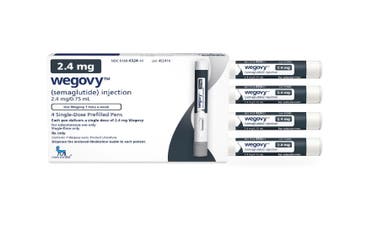 Semaglutide, marketed as Wegovy, is the latest drug approved by the National Institute for Health and Care Excellence (Nice) for routine use within the NHS. It is a once-a-week weight-loss jab that stops you from feeling hungry. Semaglutide is intended to be used alongside a diet and exercise program for people living with higher body weight or obesity to improve their health.
It is not a lifestyle drug for already slim people who want to lose a few more pounds.
Semaglutide contains a compound that mimics a hormone called glucagon-like peptide-1 (GLP-1) and helps the pancreas release the right amount of insulin when blood sugar levels are high. It also makes you feel full because it slows down stomach emptying and suppresses appetite.
The drug has helped people shed up to 15 percent of their body weight. However, in clinical trials, people complained of side-effects including constipation, nausea, vomiting, headaches and diarrhea.
Studies show that people may regain weight once they stop taking the drug.
Ozempic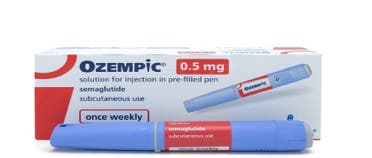 Ozempic is another drug containing semaglutide. It is taken weekly by injection into the thigh, arm, or stomach. It is similar to Wegovy and provides the drug Semaglutide in slightly lower doses but with similar weight-loss side effects
Ozempic is recommended for the treatment of type 2 diabetes and prescribed to help manage blood glucose levels in people with the condition. It is not intended as a weight-loss drug. It has become the worst-kept weight-loss secret in Hollywood as celebrities clamor to get hold of the drug to lose a few dress sizes for the red carpet.
Al Arabiya English reported last month how doctors in Dubai have revealed that interest has peaked in the drug after videos on TikTok and advertisements on Instagram promoted the medication as a miracle cure for stubborn fat – as residents are warned they cannot simply wander into a pharmacy to get their hands on the drug.
Xenical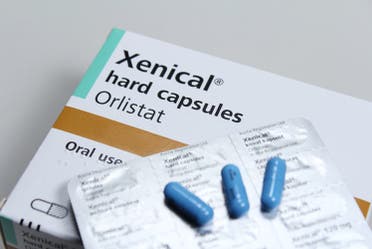 Xenical is a branded version of the generic drug Orlistat. It is indicated for obesity management including weight loss and weight maintenance when used in conjunction with a reduced-calorie diet. It is taken one tablet with water before, during, or up to an hour after each of three daily meals. In trials, it has been shown to prevent up to one third of dietary fat from food being digested by the body. Mellor explains that it works by inhibiting gastric and pancreatic lipase enzymes that break down fat in the digestive system.
By preventing these enzymes from working properly, some of the undigested fat is eliminated from the body in stools. It is typically prescribed for 12 weeks, during which time you might expect to lose up to five percent of your body weight, in most cases that's about three to seven kilograms.
The side effects of Xenical, however, are plentiful, according to The Times newspaper in the UK.
These drugs can cause oily diarrhea and flatulence. Other potential problems with use include headaches, anxiety, and menstrual disturbances.
Because it can lower the levels of fat-soluble vitamins A, D, E, and K absorbed by your body, it is recommended users take a multivitamin containing these nutrients, preferably at bedtime when the medication will not be used.
Alli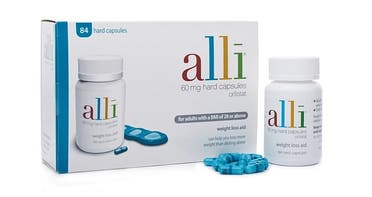 Alli, an over-the-counter Orlistat product, is another such pill that promises to help people lose weight by absorbing about 25 percent of the fat from food. However, common side effects include stomach pain and oily diarrhea, and it should not be taken for more than six months at a time. Alli is recommended for use by individuals with a BMI of 28 or higher, and a consultation with a pharmacist is required before taking it.
Mysimba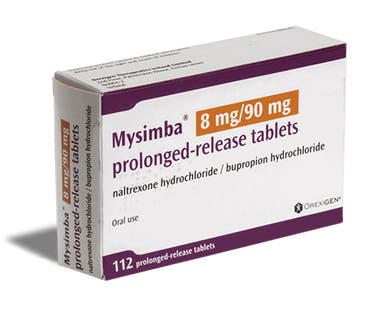 Another weight-loss pill is Mysimba, which combines Naltrexone, an opiate antagonist, and Bupropion, an antidepressant. This combination is thought to target the central nervous system pathways responsible for hunger and eating, but it may also produce unwanted side-effects like dizziness, nausea, and drowsiness. In clinical trials, Mysimba has been shown to produce an average weight loss of five kilograms in a year, but it also has a high likelihood of causing people to quit due to side effects.
The roselle plant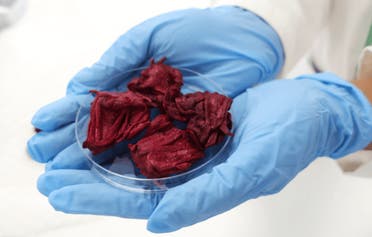 Scientists believe a supplement derived from a flower might be a miracle weight loss ingredient that can break down fat cells – without the side-effects of other dietary drugs, according to new research.
As Al Arabiya English reported earlier this month, the highly edible red roselle plant, native to Africa, is packed full of potent compounds that researchers in Australia think have "anti-obesity" properties and could lead to weight loss, according to a study published in the International Journal of Food Science and Technology.
Lab tests conducted by a team from RMIT University suggested that it hinders the body from forming new fat cells. The scientists treated human stem cells with phenolic extracts and hydroxycitric acid before they turned into fat cells. Cells exposed to hydroxycitric acid did not display any change in the fat content of adipocytes. On the other hand, cells treated with phenolic extracts had 95 percent less fat than other cells.
Australian scientists believe antioxidants in the plant stop the body from absorbing fat, leading it to being passed as waste instead of stored.
Read more:
Surge in UAE demand for Ozempic diabetes injections for weight loss: Doctors
The new Ozempic? Scientists hail new miracle fat-busting weight loss supplement
Weight loss injection Wegovy to be offered through UK's NHS soon