A video uploaded on Monday night shows the exact moment when a prominent Sunni cleric in Syria was killed in a Damascus mosque in March.
Syrian activists uploaded the video on YouTube, which shows Sheikh Mohammed Saeed Ramadan al-Bouti preaching from his chair when a loud explosion was heard.
However, the imam is shown to be moving until a man approaches him blocking the camera's view. Then, the man walks away leaving the imam bleeding from his head and mouth. Activists on social media accused the man appearing in the video of killing Bouti.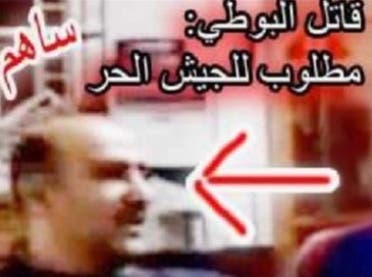 Al Arabiya could not verify the validity of the video.
At the time of his death, media reports had said the 84-year-old imam was killed by a suicide bomb.
There has been ongoing speculation, however, that the sheikh – who is known to sympathize with the regime of Bashar al-Assad – was murdered and not killed by the explosion.
Bouti held weekly sermons at the historic Ummayyad Mosque and in recent months, Syrian TV has carried his weekly addresses live. Bouti also had a regular religious TV program.