The Free Syrian Army has reportedly killed 18 Hezbollah fighters in the Western city of Qusayr, activists at the Syrian Revolution General Commission reported on Tuesday.
The fighters were allegedly killed in a battle between the Syrian rebels and the Hezbollah fighters.
Elite fighters from the Lebanese Shiite group Hezbollah, a staunch ally of the Syrian regime, are leading the fight against rebels in the region of Qusayr in the central province of Homs, a watchdog said on Monday.
"It's Hezbollah that is leading the battle in Qusayr, with its elite forces," Rami Abdel Rahman, director of the Syrian Observatory for Human Rights, told AFP.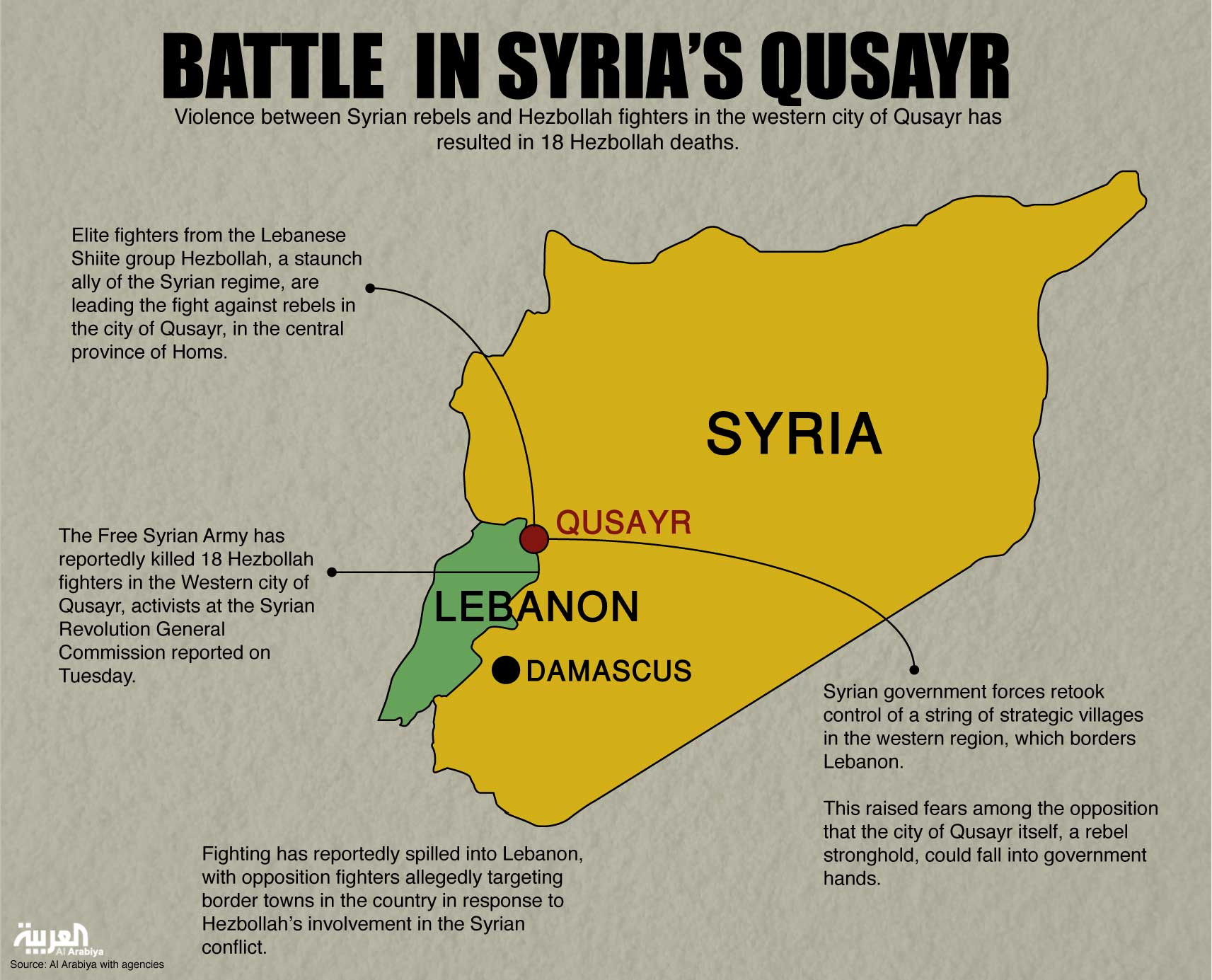 "It's not necessarily fighters coming from Lebanon. It's Hezbollah fighters from Shiite villages on the Syrian side which are inhabited by Lebanese," he said.
Over the weekend, Syrian regime forces retook control of a string of strategic villages in the region, which is along the border with Lebanon.
That raised fears among rebels that the town of Qusayr itself, a stronghold of the uprising, could fall into government hands.
The Observatory said fighting was raging Monday morning between rebels and Hezbollah fighters around several other villages in the area, leaving two rebels dead.
The area is of key strategic importance because it runs along the border with Lebanon and is near the route running from Damascus to the coast.
On Sunday, the main opposition National Coalition urged Hezbollah to "immediately withdraw its forces from Syrian territory", adding its involvement in Syria's conflict "could drag Lebanon and the region into an open-ended conflict with disastrous consequences."
President Bashar al-Assad reportedly told Lebanese politicians this weekend that Syria's "main battle" at present is raging in the Qusayr area, close to the Lebanese border.
Speaking to a delegation of Lebanese backers of his regime, Assad said his forces were determined to succeed in the area "at any cost," according to Abdel Rahim Mrad, a former MP who spoke to AFP after the meeting in Damascus.
"The main battle is taking place in Qusayr," he quoted Assad as saying.
"We want to finish it at any cost and we want to do the same in Idlib," a province on the Turkish border in the northwest which is a major rebel stronghold.