A move by the United States to designate two Lebanese exchange agencies as primary money launderers seeks to prevent Hezbollah from abusing the country's financial system, said David Cohen, U.S. Treasury's undersecretary for terrorism and financial intelligence.
"Hezbollah is both a full-fledged terrorist organization, lavishly funded over the years by Iran, and an enterprise that increasingly turns to crime to finance itself as the economic pressure on Iran mounts, and Iran's financial situation becomes more tenuous," Cohen said.
"Today's actions are not an entitlement of the Lebanese financial center as a whole. But rather exposes those actors who abuse it," he added.
The U.S. Treasury named Kassem Rmeiti & Co. For Exchange and Halawi Exchange Co. for sanctions which freeze any assets they have on U.S. soil and ban Americans and U.S. businesses from any transactions with them.
It said both had been used to move money by the Ayman Joumaa narcotics network, a primary target in recent years of U.S. law enforcement, since the Treasury cracked down on the Lebanese Canadian Bank in 2011 for its alleged money laundering activities.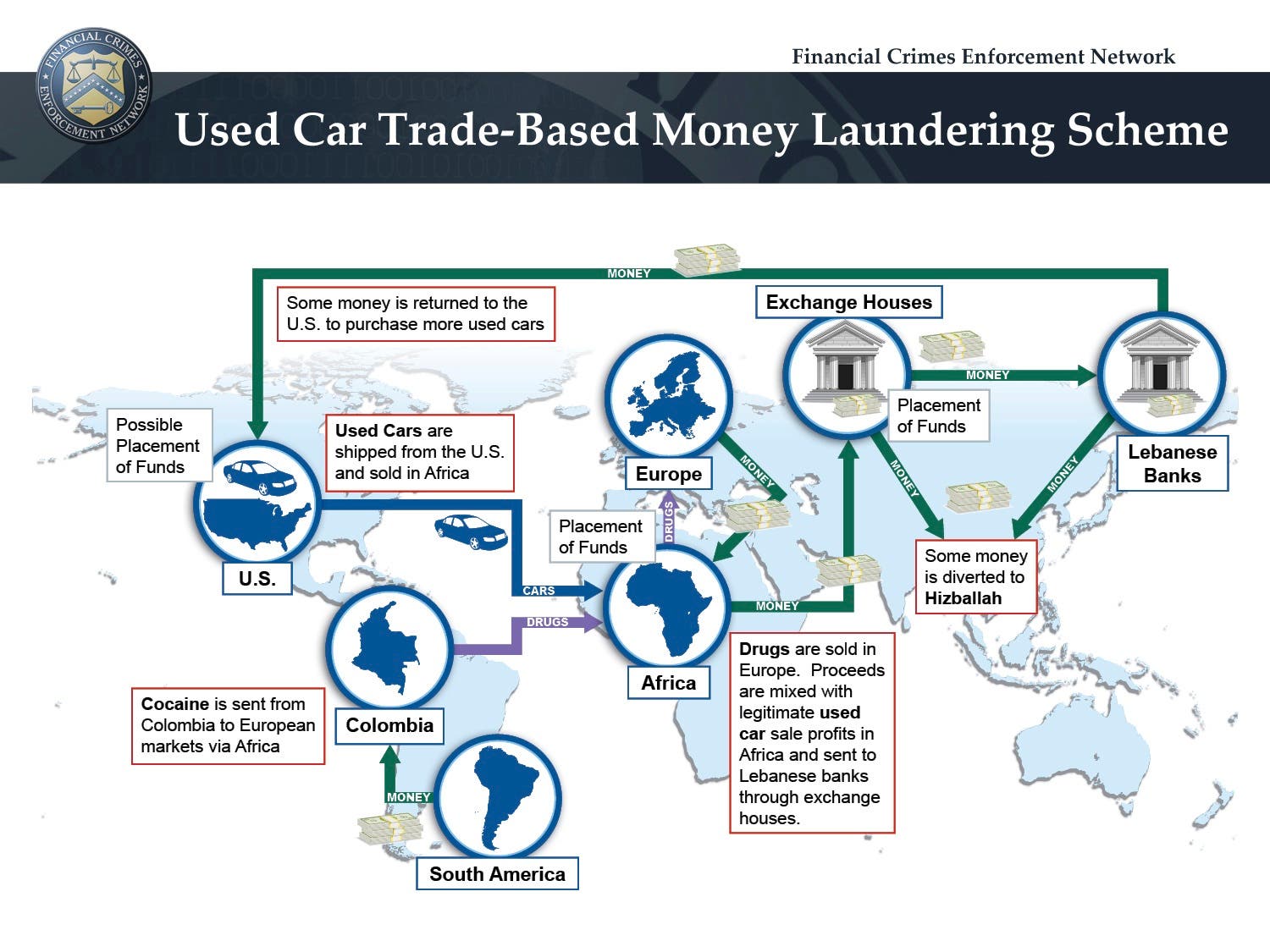 After sanctions deprived the Lebanese Canadian Bank access to key parts of the global financial system, the Treasury said, the Joumaa group used Kassem Rmeiti and Halawi to move its money, including passing millions through other banks into the United States to buy used cars, which are then exported to West Africa.
Both were linked to Benin-based money launderers and drug groups, according to the Treasury.
Both were also tied by the Treasury to money transfers for Hezbollah or officials of Hezbollah, which Washington has designated a terrorist group.
Halawi especially poses "a substantial threat to the U.S. and international financial systems," the Treasury said, due to its "extensive illicit financial activity on behalf of a variety of international narcotics trafficking and money laundering networks."
"Today's action reflects the Treasury Department's continuing commitment to target illicit financial networks that launder millions of dollars in funds for narcotics traffickers and that, in the process, provide substantial financial benefits to the terrorist organization Hezbollah," the Treasury said in a statement.
Derek Maltz, head of Drug Enforcement Administration's (DEA) special Operations Division, said "Hezbollah is operating like a major drug portal and we are going to actively investigate them."
Jonathan Schanzer, of the Foundation for Defense of Democracies, said Hezbollah using drug trafficking to finance its operations is "not a new trend."
"We've long been aware of Hezbollah's illicit activities. For example, in the tri-border area in Latin America early last year, about 13 months ago, there was a designation and arrest actually here in the United States that exposed an illicit network that included drugs. So the assumption here is that Hezbollah is increasingly moving into drugs and crime," Schanzer said.
He accused the Lebanese government of failing to monitor its financial sector and make sure it is not exploited.
"So the fact that these were identified by the United States and not by Lebanon indicates that Lebanon is perhaps not doing its job so thoroughly. The real question now is whether Lebanon will now move against these houses and take appropriate actions," Schanzer said.